Reader Robert has an older Emachines desktop that recently developed a problem:
"I installed a driver updater tool, and when I deleted it, it did something that changed my BIOS. The black screen appears when I boot up and reads: 'System BIOS shadowed. Check time and date settings. System CMOS checksum bad–default configuration used.'"
Robert says he's tried contacting both Phoenix Technologies (makers of the BIOS) and Emachines, and neither company could help. (The BIOS dates back to 2003, and the system itself is long out of warranty.)
Fortunately, this sounds like a pretty easy problem to fix. I don't think the driver-update utility is to blame here, but rather a poorly timed CMOS-battery failure. See, most desktop motherboards have a small battery that supplies power to the BIOS even when the machine is turned off. This battery might last two years or it might last 10, but when it fails, you'll often see an error message like the one above. (Your system will also fail to keep proper time, as the clock is one of the elements powered by that battery.)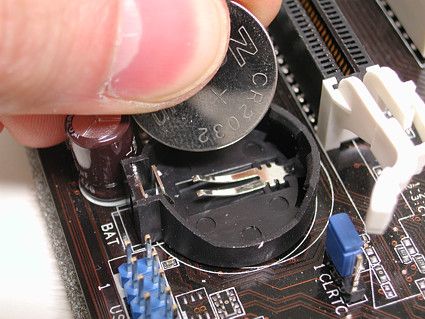 Most CMOS batteries are standard CR2032 "button" cells, which cost no more than a few bucks at your local drugstore, but check your motherboard documentation just to be safe. Replacing one is usually a two-minute job: pop out the old one, pop in the new one, and you're done. After that, you'll probably need to venture into the BIOS to reset the clock and double-check other system settings (like boot priority).
Just be glad this didn't happen to your laptop. Laptops use CMOS batteries just like desktops, but on most models they're difficult–if not impossible–to replace. Which begs the question: After all these years, why haven't laptop manufacturers figured out a better way to power the CMOS?
Contributing Editor Rick Broida writes about business and consumer technology. Ask for help with your PC hassles at hasslefree@pcworld.com, or try the treasure trove of helpful folks in the PC World Community Forums. Sign up to have the Hassle-Free PC newsletter e-mailed to you each week.