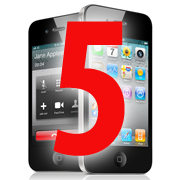 Although Apple hasn't announced a release date for the iPhone 5, existing iPhone owners are already selling their handsets in anticipation.
Gazelle, a service that buys back old tech products, says the number of iPhone trade-ins through its Website has spiked by 84 percent in the last two weeks, and is still climbing. This is unheard of, Gazelle says, because consumers typically wait until after a product is announced before selling their old gear.
Consumers must be feeling confident that the iPhone 5 launch is imminent. The latest release date rumor, from All Things Digital's John Paczkowski, claims Apple will hold an event on October 4 to announce the new phone. However, sources said Apple won't actually release the iPhone 5 until a few weeks after the announcement.
Another tech buyback service, NextWorth, says trade-in values for old iPhones have been dropping ahead of the announcement.
What's My Old iPhone 4 Worth?
NextWorth currently offers $210 for a 16 GB AT&T iPhone 4 with normal wear and tear, compared to $235 through Gazelle. eBay Instant Sale, which, in my report on tech buyback services, offered the best trade-in values on used iPhones, offers $261 for a 16 GB iPhone 4 in "Good" condition.

All of these services will lock in trade-in prices for a grace period after you've accepted an offer–30 days with Gazelle, 21 days with NextWorth and 10 days with eBay–so you could potentially sell back an old iPhone now and hang onto it just long enough to get the iPhone 5. That all depends on when Apple releases the iPhone 5. The rumor mill still lacks a clear answer on that.
Follow Jared on Facebook, Twitter or Google+ for even more tech news and commentary.