At a Glance
Expert's Rating
Pros
Makes Website form creation less intimidating
Code automatically generated to place on website
Forms are very customizable
Cons
Not WYSIWYG
Beyond the basics, it's unintuitive for most users
Interface keeps related tools in separate windows
Our Verdict
This online service enables creating forms for your website, and for using the information collected.
Having a form on your Website is good for business, making it easy for people to contact you, and keep you informed about what they need or want from you. Wufoo.com (various pricing, with plans from free to $200/month) makes the difficult, cumbersome task of designing and managing a form less intimidating.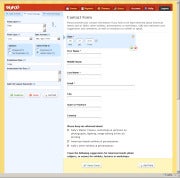 Wufoo's tabbed interface is rather simple to navigate. However, the site is not as intuitive as the simple interface implies, making it necessary to fully read the excellent, detailed online documentation.
The first tab is for the Form Builder, which has three sub-tabs: Add a Field, Field Settings and Form Settings. To create a basic form, click field names or drag and drop them to your form. The 16 different types of field include basics such as Name, Email, Website, Price, and plus form components such as Checkboxes, Multiple Choice, Drop down, etc.
The Field Settings tab has generally full-featured field properties options. For instance, a Multiple Choice field can be open, so a person filling out the form may create a new choice in addition to the ones you defined. What's more, up to five Single Line Text fields in your form may be encrypted (if you've purchased the $30 Wufoo plan or better). Encryption is useful for protecting unique and potentially valuable data, such as Social Security numbers.
You can use CSS Keywords for more advanced layout options as specified in Wufoo's stylesheet, or create your own custom stylesheets. Unfortunately, the CSS field doesn't offer a dropdown of options or a help button for direct access to that information. You have to either keep the CSS Keywords Help page open in another window, or have a certain level of sophistication with these types of commands. Also, Wufoo has no Undo command.
You define form-wide settings in the Form Settings tab. For example, when someone fills out your form, you can direct them to your Website (if you have a paid Wufoo account) or have Wufoo's confirmation page displayed, with your custom text.
Unfortunately, the Form Builder isn't WYSIWYG. The only way to preview to your form is to save it, tab to Form Manager, and click to view the form, which opens in a separate window. Then, to revise your form, you must window back to the Form Builder.
Other options, such as setting up payment collection options, are found in still other windows. The Themes tab offers 51 color templates, which you can easily customize with your own colors, fonts and logo. This separation of the various design and code controls from the creation of the form is counter-intuitive, requiring extra steps and clicks.
Wufoo generates the code to embed the form in your site, as well as a unique URL to link to it in emails and other documents. The Integrated Form Code option places a form inside an existing page (using JavaScript, iframe or WordPress Shortcode). Or, you can use the Full Page Form Code to create a web page with the form inside it. Among other options, you also have full access to the underlying XHTML/CSS code to fine-tune your form
When someone fills out your form, you can receive notification by email, text message to a mobile device, and/or via RSS feed. Your online account maintains a Report Manager. You can also have the information sent to any of nine Web apps that integrate with Wufoo, such as MailChimp, CampaignMonitor, Salesforce, and Twitter. (We've been informed that others, such as Nimble, will be added in the near future, but not likely ConstantContact.) We expect that many users will simply export the data to Excel or.csv format to use in their own contact management system.
Wufoo's pricing structure is a sliding scale, based on number of users, frequency of use and volume of traffic. . For instance, the free program covers one person, creating three forms of ten fields each, generating three reports, with a maximum of 100 entries/month. The $14.95/month program is for one user, 10 forms, up to 100 fields (depending on their type), 20 reports, 500 entries and 250MB of storage. Pricing can escalate up to $199.95/month.
Wufoo is a good solution for anyone who wants a nice-looking, easy to manage form on their Website. However, be prepared to read and study documentation to get the most out of Wufoo.
The link takes you to the vendor's site, where you must sign up to use this Web-based software.