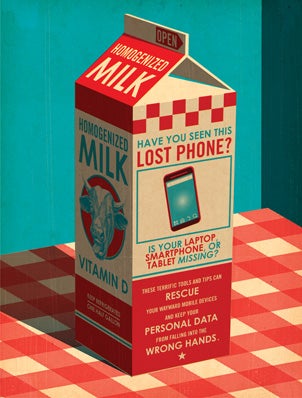 The bad news: At some point, your cell phone is likely to go missing. Whether it falls out of your pocket in a cab, or you leave it unattended in a public place for a few seconds only to have it swiped by someone with sticky fingers and low moral fiber, your phone is vulnerable. In fact, according to a report from security software company Symantec, 36 percent of U.S. consumers have had a cell phone disappear on them.
If that phone is a smartphone–or if the missing item is another valuable mobile device such as a laptop or a tablet–thieves will be even more motivated to do their dirty work. And misplacing your gear or having it stolen is more than just a hassle: Given the amount of information that people store on their devices, losing a gadget may very well mean not only losing your files, contacts, and photos, but also seeing your identity stolen.
What can you do? Start by following these simple steps before your favorite tech goodies go MIA. Although we can't guarantee that you'll get your missing phone, laptop, or tablet back, we can at least help you ensure that no unauthorized person starts peeking at your most personal details, and we can help you increase the odds that your gadget will return to you.
Preventive Protection
Use a password: The first step in securing your laptop, phone, or other mobile device is to put a password on it. Needing to enter a password whenever you use your phone may seem inconvenient, but you'll appreciate having taken the precaution should the device fall into the wrong hands.
On iOS, you can assign a four-digit PIN to keep your iPad or iPhone from being unlocked easily. If you own an Android phone, you can choose either a PIN or a pattern; with a pattern, you unlock your device by drawing a simple shape on the screen. For both Android and iOS, these security options reside under the 'Settings' menu. For most Android devices, the option to add a PIN or pattern appears under 'Location and Security'. On iOS you'll find the option to set a PIN under 'General', then 'Passcode Lock'.
Remember not to choose an excessively simple PIN like 0000 or 1234. You don't want to make it unduly easy for anyone other than yourself to access your assorted devices.
In addition, always lock your laptop's screen when you step away for any period of time, to keep prying eyes from peeping at your work. In Windows, hold down the Windows key and press the L key; that will take you to the login screen.
In Mac OS X, open Keychain Access in your Utilities folder (or do a Spotlight search for it), and within the Keychain Access menu, select Preferences. From there, check the box labeled Show keychain access in the menu bar. A lock icon will appear in the menu bar; that icon will allow you to lock your password keychains, as well as your screen.
Use security software on your smartphone: Even though PINs, patterns, and passwords are a good first line of defense, you'll need much more to keep your data safe. In fact, one of the first things you should do when you purchase a new phone is to install a mobile security suite.
On Android, apps such as Lookout Mobile Security, Norton Mobile Security, Seekdroid, and Webroot Mobile Security let you remotely locate your absent device, lock it, or wipe all data from it. Some of these apps also in­­clude antimalware and phishing safeguards, so you'll be protected even in your day-to-day activities. Seekdroid costs $1, while the rest of the listed mobile security suites are free (you will have to pay extra to unlock all of their features, however).
Apps for iOS are more limited. We recommend that you install the Find My iPhone app on all of your iPads, iPhones, and iPod Touches. After installing the app, you can use your Apple ID to sign in to Me.com, which will open to a map showing your iOS device's approximate location, as well as options for displaying a message on the lost hardware, remotely locking it, or remotely wiping it. Find My iPhone does require a little setup, but operation is straightforward once you have it working.
The only drawback to Find My iPhone is that it's easy to disable, whereas several of the Android security suites we've mentioned will either request a password or hide the app. We're hoping that you followed our earlier advice and set up a PIN on your device to prevent people from getting into it and then uninstalling the security app.
Track your laptop: You can hunt down a lost laptop in much the same way that you track a missing smartphone. Consider investing in LoJack for Laptops, a subscription service that makes it easier for both you and law enforcement to find your laptop. The service permits you to track the notebook's location (some plans track only IP addresses, while others track by using GPS), lock it so that nobody can access the data, remotely wipe the hard drive, and perform other tasks. LoJack requires a piece of software that you install on your computer; versions are available for Windows and Mac. Plans start at $40 per year.
If you prefer tracking your laptop yourself, try out Prey, which installs a small piece of software on your computer that lets you track the system's location via an online control panel. You can also capture screenshots of your laptop if it goes missing (to gather information about a thief), take a photo using the built-in webcam, sound an alarm (useful if you misplace your laptop nearby), remotely lock the computer, and more. The Prey software runs on Windows, Mac OS X, Linux, and Android; installation is fairly straightforward.
The free version of Prey allows you to monitor up to three devices (computers or Android-based phones), and the various "Pro" account options range in price from $5 for a personal account to $400 for a large business.
At this writing, Apple was working on Find My Mac, which is similar to Find My iPhone but for Apple laptops. Find My Mac may be available by the time you read this.
A word of caution: Privacy concerns about device-tracking products have begun to emerge. Shortly before we went to press, a judge ruled that a woman in Ohio could sue Absolute Software, makers of LoJack for Laptops, for allegedly infringing on her privacy after she had unknowingly purchased a stolen laptop. So if you decide to use a device-tracking product on your gear, be sure to use it responsibly.
Lock your laptop: A physical lock isn't foolproof, but it will help prevent someone from swiping your machine off your desk. Companies such as Kensington and Targus sell assorted products that attach to or link through the lock port on most laptops. One from Targus even has an alarm that sounds when someone picks up your laptop.
Next page: More preventive-protection tips, plus advice on recovering a gadget and starting over
More Preventive Protection
Label your device: If you're feeling optimistic that your gadget will fall into the hands of a person with a conscience, you can use a service such as BoomerangIt or StuffBak. With both services, you attach a coded label to your device; the label encourages anyone who finds the gear to go to the BoomerangIt or StuffBak website and follow the instructions to report the recovered item. You can also stipulate a monetary reward on the label, which should improve the odds that the finder will do the right thing.
Back up your phone or tablet data frequently: If you're using some flavor of Android, remember that Google backs up most of the basic phone and tablet data (contact lists, email messages, app purchases) and stores it online for you. Focus on backing up photos, videos, and any documents or files you may have downloaded; those items generally aren't synced to Google's servers, so it's up to you to keep regular backups.
A good app for safeguarding your entire device is MyBackup Pro ($5), which backs up every file on your gadget and saves it to your SD Card or to an online storage service. If you save the backup data to an SD Card, make sure to keep the card in a safe place, and don't use it as your primary storage. That way, if your device disappears forever, you can just plug the SD Card into your new gadget and restore all of your lost information.
iOS owners have it slightly easier. Every time you sync your iPhone or iPad to iTunes, you create a backup of your device on your computer. The backups contain all of your app data, as well as your settings, pictures, music, movies, and books. Restoring an iDevice is as easy as plugging it in and selecting Restore. iOS 5, which Apple had not yet released as we went to press with this issue, should automatically sync your phone or tablet via iCloud, Apple's upcoming personal online storage service. Until iCloud arrives, you will have to sync your data manually.
Recovering a Lost Gadget
If the worst does happen and you lose your phone, tablet, or laptop, don't panic. Just take a deep breath, and then follow these steps to hunt it down and protect yourself.
Change all of your passwords: This is the very first thing you should do after losing any device containing valuable data. Start with your email password–once thieves have access to your email, they can easily break into all of your other online accounts by resetting your various website passwords.
While you're at it, now might be a good time to revisit your approach to passwords, making them stronger–and easier to remember in the process. Want help? See PCWorld's tips for building better passwords.
File a police report: Once you have changed your account passwords, file a police report for your missing tech. Be sure to mention any identifying features (say, engravings or other customizations), as they will help other people recognize your device. You might also want to alert any local pawnshops in case someone tries to sell it for a quick buck, though this step may be time-consuming.
Track your gadget: If you have in­­stalled recovery software on your gear, activate it and use it to gauge your device's location. For most tracking products, this means logging on at the service's website and tracking your wayward gadget via the control panel. At this point, it's entirely up to you whether to pursue your device or just give it up for lost and wipe it remotely.
On iOS, a remote wipe will erase all content on the device. Wiping an Android phone or tablet will clear most of the user data, but SD Cards and other pieces of external media will remain untouched; keep that in mind if you store a lot of critical information on your SD Card.
Turn to Plan B: What if you didn't install any recovery software? Are you out of luck? If it's an iOS device, probably yes. But Android users can still take action. Thanks to the Web-based Android Market, you can remotely install recovery software to your phone or tablet, even if it is no longer in your possession. For instance, in addition to its mobile security suite, Lookout offers the aptly named Plan B. You remotely install the app through the Web-based Android Market, and it begins to run automatically, sending email messages to your Gmail account with a map showing where your equipment is. Don't rely on this app alone, though: Consider Plan B only as a last resort, rather than as your primary or sole line of defense.
Starting Over With a New Phone or Laptop
Let's say that despite following our suggestions, you've lost your valuable mobile tech and you're resigned to the fact that the device will never come back to you. Yes, it's time to start from scratch. Fortunately, securing a new laptop, tablet, or smartphone will be a relatively quick and painless affair. But even before you begin to set up your new device and install any of the apps we recommend elsewhere in this article, consider taking two actions.
Contact your carrier: If your missing phone, tablet, or laptop used a SIM card, make sure that your wireless carrier has deactivated or locked it. That move will prevent other people from simply pulling the SIM card out of your locked device, inserting it into their own, and then shamelessly racking up charges to your account. This tip also applies to LTE (4G) phones on Verizon, as well as to so-called world phones (handsets that work outside the United States), since they also carry SIM cards. Be sure to explain to your carrier that your device was stolen; it may be helpful to bring along a copy of the police report you filed, in case you need to dispute any charges.
Keep an eye on your financial statements: If evildoers succeeded in rummaging through your data before you could wipe or lock your device, they may have snagged some of your personal financial information. If you did any online banking or shopping on the lost device, change the passwords for those accounts immediately. Check your credit reports by visiting AnnualCreditReport.com, and be ready to put out a fraud alert at the first signs of trouble. You might also wish to cancel any credit cards that you used on the device, as they may have been compromised.
So get to it! Something as simple as downloading and installing a basic security program or locking your laptop doesn't take much effort. And you never know: A ten-dollar app could end up saving you thousands in the long run.