Google+ has moved from invitation-only limited Field Trial to Beta mode open to the public. Along with the transition from Field Trial to Beta, Google also introduced a number of changes to the Google+ social network that might make it a more attractive platform for business use.
The Hangouts feature has been updated and expanded, and the Huddles feature of the Google+ mobile app has some new tricks and a new name. With the floodgates open and the new changes rolled out, businesses can use the Google+ social network for video conferencing, online presentations and general collaboration.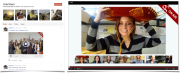 Here are four reasons businesses should be using Hangouts and Huddles…I mean Messenger:
1. Simple Video Conferencing. You don't have to be in the same room, or even in the same city to work together. If your company, or at least your team, are all on Google+, you can use a Google+ Hangout for impromptu video conferencing. You can make it even simpler by creating a Circle comprised of the company or team so you can just invite that Circle to the Hangout.
2. Collaboration on the Go. One of the changes that Google has introduced for Hangouts is that you can now participate in Hangouts from your smartphone. The mobile Hangouts feature is available for Android now, with an update coming soon for the iOS Google+ app. Participating in Hangouts requires a smartphone with a front-facing camera, but with this change it is even easier for team members to jump onto a quick video conference session no matter where they are.
3. Webcast Platform. Hangouts On Air turns the Hangouts feature into a tool for broadcasting online to the general public. The Hangout can still only have a total of ten engaged participants, but with Hangouts On Air, an unlimited number of users can view the session. You can also record the Hangout so that those who can't attend live might still be able to benefit from it. Google is also working on Hangouts On Air with Extras which adds Screensharing, Sketchpad, Google Docs, and more for real-time online collaboration. This feature can be useful for presentations to the whole company, or for conducting webinars for partners, or customers.
4. Messenger (Huddles) with Pics. Google has renamed the Huddles feature of the Google+ mobile app to "Messenger", and added the ability to share photos as well. The group chat capabilities of Huddles (Messenger) are a great tool for businesses to collaborate and work together as a team any time.
Free tools like these make Google+ an attractive platform for small businesses to jump on. Facebook offers many similar features, but companies that depend on Google in other ways–Gmail, Google Docs, etc.–may appreciate the integration of Google+ with the rest of the Googleverse.