If there is one thing Facebook users love to do, it's to complain about design changes on the social network. Over the years, the site has undergone several user interface tweaks, and each and every time Facebook makes a change, a large portion of the site's 750 million users rage. As one tweeter said, it's the 'Facebook cycle'–things change, people complain, they get over it and carry on.
The most recent changes revemps the homepage news feed, and adds the 'news ticker'.
If you're not a fan of these changes, well, there is very little you can actually do, as Facebook offers no way to revert to the old-style design. However, there is one thing that can be done if you're a Chrome user.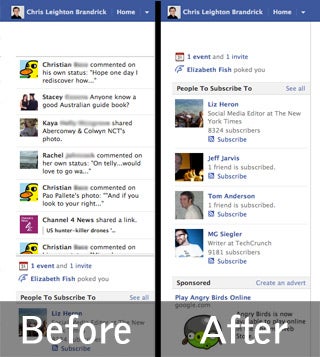 A Chrome plugin called Facebook News Ticker Remover promises to, as you may have guessed, remove the new sidebar ticker box. Created by Isreali Arik Fraimovich, the free browser extension simply removes the omnipresent live news ticker for good.
The extension will not only remove the news ticker from the Facebook front page, but it will also banish it from the Chat sidebar. It's worth noting, though, that even with this Chrome plugin installedm the Games ticker will still be present.
If the new Facebook design is giving you a headache, this free plugin is worth a shot. Sure, it's not going to change the whole look and feel of the site, but it does offer up a neat, clean solution to rid Facebook of its new overly social live-scrolling ticker.
But even if this plugin isn't enough to keep you happy with Facebook, you could always migrate over to the now open-for-all Google+. See you there?
[Via Chrome Web Store]
Feeling social? You can subscribe to Chris Brandrick's public posts on Facebook, follow Chris' Stream on Google+, or follow Chris on Twitter.
Like this? You might also enjoy…
Get your GeekTech on: Twitter – Facebook – RSS | Tip us off