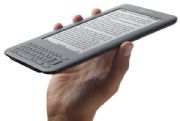 In a surprise move Wednesday, Amazon announced that 11,000 libraries throughout the United States are now able to loan books to Amazon Kindles. While libraries have been able to lend e-books to readers for some time now, this is the first time they've been able to do it in the Kindle format.
Kindle users also get some loan features not offered by other e-book formats–for example, borrowed books can be downloaded from almost anywhere using Amazon's Whispersync wireless network.
Users can also highlight passages, add notes, and bookmark pages in the books, without worrying about defacing the actual book. Highlights, notes, and bookmarks are stripped from the book when your time with a volume ends, but Amazon saves them on its servers for if you ever happen to borrow the book again.
Amazon did not release a list of libraries participating in the program, but you can search for a library using OverDrive's website. OverDrive, which is based in Cleveland, operates a network that provides e-books to libraries around the world.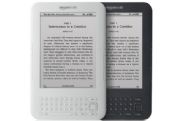 "Kindle compatibility will allow public and school libraries to serve millions of new readers and extend their valuable community role while providing an outstanding reading experience," OverDrive CEO Steve Potash said in a statement. "This addition helps public libraries accelerate their drive to become the first online stop for e-books, where visitors can browse, discover and sample new and popular titles and authors in virtually all subjects."
Kindle books will be seamlessly integrated into the existing e-book inventories available to the library, OverDrive Director of Marketing David Burleigh explained to PCWorld. "When you browse your library's collection, you'll see what formats are available," he said. "It could be ePub or PDF or now Kindle."

When you see an e-book you want to borrow, among the options available to you will be "send to Kindle." If you choose that option, you'll be sent to Amazon. After logging in to your Kindle account, you'll be able to send the book to any of your Kindle locations—smartphone, computer, tablet or e-reader. After the loan period expires, access to the book will be disabled and you'll be advised to delete the book to free up space on your device.
Amazon cited a number of features available to borrowers of Kindle books, including:
– Real page numbers that correspond to the numbers in the printed editions of the book.
– Facebook and Twitter integration so you can share your favorite passages from a book with your online friends.
– Popular Highlights show you what millions of Kindle readers think are some of the most interesting passages in your books.
– A forum to post public notes so you can share your thoughts and learn about what other readers think about a book.
Follow freelance technology writer John P. Mello Jr. and Today@PCWorld on Twitter.