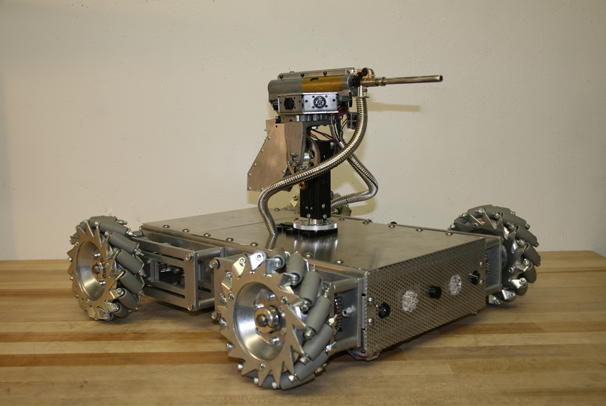 I'm constantly amazed by the creativity that goes into the random things I find on the Internets, and this bad-ass robot built by the Beatty Family is no exception. This isn't your ordinary security bot, no sir; rather, it's an armored beast weighing in at 45 pounds that can defend itself with a mounted turret capable of firing 1,000 plastic or metal pellets a minute.
The turret contains 8 ultrasonic sensors that can calculate the distance between it and other objects down to the inch. When an object moves toward the robot while it's in defense mode, the turret automatically takes aim and fires to fend off the foe. Pew pew!
Three more ultrasonic sensors in the front let it drive around when in autonomous mode by detecting objects–like chairs, walls, or animals–that may be blocking its path. This bot also features an electronic voice that sounds a bit like an uptight transformer, but when it says stuff like, "primary weapon system armed and prepared to fire", it doesn't sound like it's playing around.
The special AndyMark wheels–probably the coolest part of the bot–have rollers that are attached at a 45-degree angle. Each wheel has its own motor, gearboxes, and software controller, which let the bot move any direction, including side-to-side strafing and even in circles while keeping its orientation.
If this robot got in a fight with another robot, its awesome maneuverability would give it a big advantage, allowing it to continue to aim and fire while it strafes to dodge incoming fire. Check out the video to see the bot in action.
[Beatty Robotics via Hack a Day]
Like this? You might also enjoy…
Get your GeekTech on: Twitter – Facebook – RSS | Tip us off