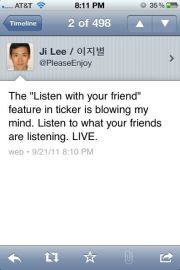 A Facebook employee tweeted about the company's "Listen with your friend" feature, letting the cat out of the bag on one of the features expected to debut at the company's f8 developer's conference. Facebook (and former Google) creative director Ji Lee tweeted on the eve of Facebook's developers' conference:
"The 'Listen with your friend' feature in ticker is blowing my mind. Listen to what your friends are listening. LIVE."
The tweet has since been deleted, but not before some followers were able to grab screenshots.
The "ticker" Lee mentioned is one of the new features Facebook rolled out this week as part of its revamp to the news feed — it's that real-time scroll of friends' updates in the upper right, as the company explains in this video:
"Listen with your friend" could be part of a new music feature that Facebook is widely expected to unveil at f8. It's been reported for weeks that Facebook Music would launch, perhaps through partnerships with several existing streaming services. Facebook metadata was spotted over the weekend in the code underlying Spotify, Rdio, MOG, SoundCloud, Deezer, and Rhapsody.
If Facebook introduces some sort of group listening or "listening with a friend," as Lee calls it, it won't be groundbreaking. People have been listening simultaneously to the same ShoutCast station as their friends on IM and chat for more than a decade, and social/sharing features have become a prerequisite for any music streaming service of late.
What would be most different with Music on Facebook is simply that it would be on Facebook, with its 700 million users. What do you think? Would you listen to music with your Facebook friends?
Follow Eric on Twitter, and at ericmack.org. Follow PCWorld on Twitter, too.