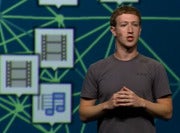 Facebook's CEO Mark Zuckerberg announced a bevy of features for the social network, including one called Timeline that allows you to chronologically record your entire life via pictures, Facebook updates, Likes, activities, and places you've traveled to and lived. That feature, along with a host of new Facebook apps, are being announced Thursday at Facebook's f8 developers conference.
The overriding theme of the new features announced Thursday were that Facebook shouldn't be just a place to swap messages and photos with friends, but should be a place to preserve your memories and chronicle your life. Zuckerberg wants Facebook to be able to do more than give you the virtual equivalent of a 15-minute chat with a friend, rather an hour-long conversation about your life.
A big part of that new Facebook vision, Zuckerberg says, is supercharging its application platform to allow you to share "everything" on your Facebook profile and Timeline from game activity, music, movies, and what you read online.
[Read: Facebook Integrated Real Time Media Fires Significant Blow Against Google]
Zuckerberg says new third-party apps will allow you to post updates automatically to your Timeline page. The idea is to provide minor status updates–say, cooking from a recipe or going for a run–without clogging up Facebook's main news feed. Timelines don't replace your Facebook profile, rather offer an alternative view of your activities in greater detail.
Timeline is "the story of your life," Zuckerberg said, allowing people to know more about than just a week's worth of Facebook activity.
Timeline of Your Life
With Timeline Facebook users will be able to add information to their timelines (for example, uploading photos from before Facebook existed) and decide what information is visible to the public, to friends, and to other Facebook users.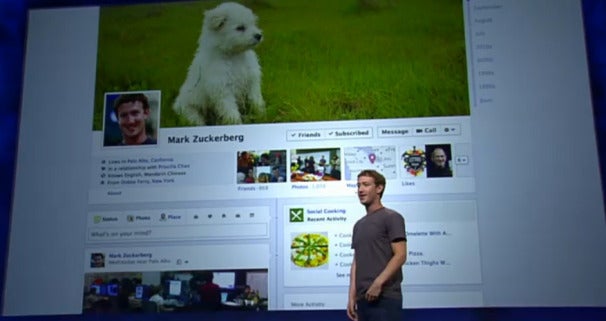 "Millions and millions of people have spent years curating the stories of their lives, and today there's just no good way to share them," Zuckerberg said. "We think this is a real problem, and we think that we have the solution."
The Timeline feature is available starting today in beta form. You can sign up by following this link. Open Graph apps Movies, Music, and TV will also launch today. Zuckerberg says a longer list of Open Graph apps will be available in the months ahead.
Share Music with Friends
One of many new apps announced let friends listen to songs together through free streaming music services such as Spotify. When a friend is listening to a song, it'll appear in the "News Ticker" that rolled out in this week's redesign. Other users can click on that song, which opens a chat window so friends can talk about what they're hearing. Those friends can then keep listening to more songs together.
Zuckerberg said the music service "isn't trying to block you from listening to songs you haven't bought. It's about helping you discover so many songs you end up buying more content than you ever would have otherwise."
Fake Facebook Features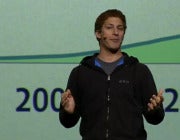 Comedian Andy Samberg helped kicked off Zuckerberg's keynote with a standup routine where he pretended to be Zuckerberg and introduced fake new features including one called Slow Poke–a Poke that takes 24 hours to reach its destination, thus allowing you cancel the Poke in the event you were inebriated or have regrets, Samberg says.
In Video: Facebook Announces Timeline, Other Major Changes