Facebook fired a major blow against social networking rival Google+ today, announcing the integration of streaming music and video to the service, as well as a new "Timeline" feature that creates an easy way to display users' Facebook activity over time.
Both the new media capabilities and the "Timeline" leverage Facebook's years of work in social networking. Neither feature would be nearly as meaningful if introduced at Google+, because that service has relatively few users, and the users that are there have a no significant history on the service yet. (Google+ was only announced in late June.)
The moves show Facebook playing to its strengths, leveraging its past success, and making a powerful statement that it believes it will take Google years to get its social network to the place that Facebook is at today.
New Open Graph Media Apps
Facebook's new media capabilities are the more meaningful part of today's announcements because they extend the concept of the "social graph" to include real-time interaction among users. Facebook CEO Mark Zuckerberg explained that where you would normally "like" something your friend is watching or listening to, you can now just turn on the same stream and begin watching or listening to the song or video yourself.
For instance, if you see in Facebook's new Ticker at the right of the screen that one of your close friends is watching a Netflix video or a Spotify music track, you can click on the name of the song or movie and begin listening or watching in real time with your friend.
That some functionality also works with gaming apps, news apps, and what Facebook is calling lifestyle apps (cooking, exercise, etc.).
[Read: Yahoo News Gets Integrated With Facebook]
While Zuckerberg mostly used the web version of Facebook for demos, he stressed that all the new functionality would be available for mobile phones as well.
This new capability will change the experience of using Facebook in a very fundamental way. It will have the more immediate, real-time feel of Twitter–when you merely "like" something, your friends might see that sometime later. But if you click on a stream to tune in, your friend will know that immediately.
New 'Timeline' Feature
The new "Timeline" historical function in Facebook answers a need for people who have been storing information at the Facebook "scrapbook" for a number of years and need to recall, review, or share some of it. "Timeline is the story of your life," says Zuckerberg. "It contains all your stories, all your apps, and a new way to express who you are."
You can also create a number of filters to your Timeline: For instance, you can create a history of your music listening and interests over time. Or you could create an "exercise" timeline that reviews your health and fitness activities, and those of your workout partners.
Here's more on what was announced Thursday:
In Video: Facebook Announces Timeline, Other Major Changes
Other New Features
Facebook also announced a host of other, smaller features including.
A private activity log to help you filter what you've done that you want to promote and what you want to hide.
A huge new "cover" photo to help you express yourself at the top of your timeline.
The ability to fill in your timeline, adding stories, photos and more to specific parts of your past.
When Can You Use Facebook's New Features?
So when does this all become available? The "open graph" (real-time) music, movies, and TV apps will launch today, although Facebook didn't say which ones. The Timeline tool goes into a beta period today: developers can start using the tool now, but everybody else will have to sign up and wait while the tool rolls out over the next "couple of weeks," Zuckerberg says.
Zuckerberg and Facebook want to apply the social media approach to many things that we do online — from news reading to search to business. But dropping an app with the content breadth and flexibility of Spotify into the middle of the social graph could have a profound impact on the way we listen to music and watch video.
Apple's iPod made listening to music a completely closed-off, private experience. Facebook–with big content partners like Spotify and Netflix–could truly make music and video a much more social experience. Imagine a person walking down the street or on a job listening to music with the Facebook app on a smartphone. That person might very well click on a song or a string of songs that a friend was listening to simultaneously while working out at a gym across town. This is a new way to listen to music–it takes the experience out solitary confinement and makes it mobile and social.
"The new open graph apps are all about self expression and serendipity, " Facebook Chief Technical Officer Bret Taylor said in today's keynote.
Today's event was a noticeably splashier event than recent Facebook developer's conferences. There seemed to be a buzz in the air about the growing battle between Facebook and Google+, which some are already calling the biggest corporate rivalry of this decade. The event was held at the San Francisco Design Center, and the large hall was nearly full, mostly with Facebook developers and media.
What Has Google+ Done Lately?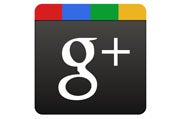 Google earlier this week announced that its Google+ service, which had been in trial mode, is now open to the general public. It also announced a number of improvements to existing features.
[Read: Can Google+ Compete with Facebook?]
Google+, which is only a little more than three months old, already has about 21 million users, compared with Facebook's more than 800 million. Now that Google+ is open to everyone, Google hopes the non-nerd crowd will sign up in big numbers.
It appears that Google hopes that users will open a Google+ account and later adopt it as their go-to social network because of its convenient integration with other Google services such as Google Docs and Google search. Time will tell.
There is a lot at stake here. The online advertising community is increasingly convinced that the web is becoming an inherently social place, and that ad dollars will flow to the platform that hosts the most users for the longest periods of time. Google made its fortunes on search advertising, but the paradigm appears to be shifting to social advertising, and right now, Facebook has a clear inside track.