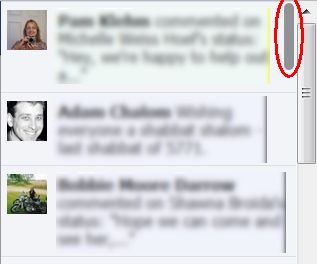 The Facebook changes are coming fast and furious these days, aren't they? For once I actually like most of the interface tweaks, most notably the omnipresent toolbar up top and the blending of Top and Most Recent stories into a single feed.
But there are a couple changes that aren't quite so obvious, most notably what happens when you hover your mouse cursor in certain areas.
For example, the new "recent activity" ticker that appears in the sidebar (above the chat pane) appears to have no scroll bar. But it does; a very narrow gray bar appears when you first move your mouse into that area of the sidebar. Curiously, it disappears soon thereafter, but you can make it reappear by hovering your cursor on the right edge of the pane.
FYI, the same rules apply for the chat pane.
The bigger change is what happens when you hover on a friend's name in your news feed. After a moment you'll see a pop-up box containing a larger thumbnail photo, an abbreviated roster of mutual friends, and, most importantly, the new Friends and Subscribe tools. (Here's a great overview of the new Facebook Subscribe feature, in case you missed it.) Note that the accompanying screenshot doesn't show those buttons, which don't appear for "friends" like The Daily Show.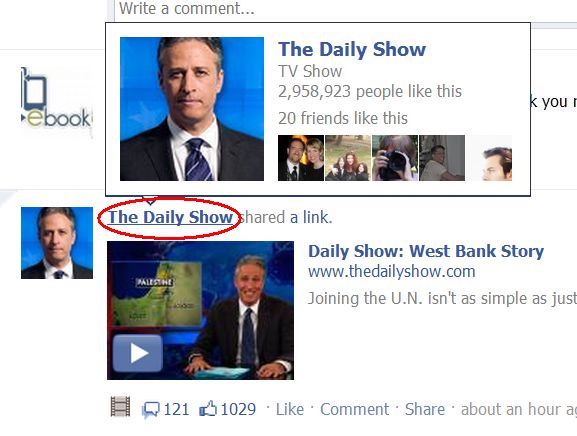 When you mouse over either of those buttons, you'll see quick and easy options for adjusting your friend's presence on any given list(s) and managing the updates you get from that friend. (Well, okay, maybe not easy–some of this stuff still seems overly confusing–but definitely quick.)
So there you go; you now know everything you need to about "hovering" in Facebook. Except maybe how to spend less time doing so. Man, that thing is a time-suck!
Contributing Editor Rick Broida writes about business and consumer technology. Ask for help with your PC hassles at hasslefree@pcworld.com, or try the treasure trove of helpful folks in the PC World Community Forums. Sign up to have the Hassle-Free PC newsletter e-mailed to you each week.