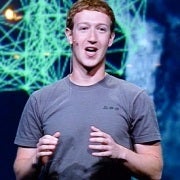 Facebook's new profile layout, Timeline, promises to turn your Facebook account into an online scrapbook where you can highlight important moments in your life and resurface past Facebook activity.
"Timeline is the story of your life…in a new way to express who you are," Facebook CEO Mark Zuckerberg said on Thursday announcing the new feature.
As its name suggests, Timeline organizes your life in reverse chronological order based on the content you've shared on your Facebook profile. The layout is designed as a dual-column view with a large main column for viewing content and a smaller one on the right for fast navigation.
If you've entered when you graduated high school or college, when you got married, when your first child was born or when you started a new job, all that data will show up in your Timeline. You can also go back and add photos and captions to important past events if you want to, or remove particularly embarrassing photos or other content from your new profile page.
Timeline is currently in a limited beta for developers but, when I found out you could activate it immediately (thanks to a little developer program trickery explained below), I jumped right in to see what all the fuss was about.
While Timeline still has a few bugs to work out, it was a very interesting way to experience Facebook and a great way to look at your past activity. But, in my tests, there were also some privacy changes that may give some users pause.
Get Timeline Now
Timeline won't officially launch for a few weeks, but if you want to try it right now, check out David Daw's how-to guide on activating Facebook Timeline right now. If you decide to take the plunge, keep in mind this is a developer beta so expect to see bugs. There are also no guarantees that an accident won't happen that briefly makes all your profile information public. So the risk is yours if you try Timeline.
You should also know that if you activate your Timeline now, only other people using the beta release will see your new Timeline, your non-beta friends will continue to see your old profile page. Although, Facebook will also specify a date when your Timeline will go live (mine was September 30). It's not clear if everyone will see my Timeline after that date.
If you do activate Timeline or you just want to see what you have to look forward to, here's a getting-started guide for Facebook's new profile layout.
Timeline Basics
When you first arrive on Timeline. you will be given the option to publish it right away or wait until you finish editing it before making the project go live. You will only have a limited time to keep your Timeline private, as Facebook sets a specific date for your Timeline to be published. In my tests, the social network gave you seven days, which should be plenty of time to get your profile in order.
At the top of Timeline sits a large photo–Facebook calls the cover photo–along with an inset of your profile photo. You get to select the cover photo. Below the right side of the cover photo, you will see three menu items: Update Info, View Activity, and a settings cog.
"Update Info" takes you to a new page where you can edit your basic profile information. including employment and education history, contact information, favorite quotes, places you've lived, and a list of your family members and relationships. The data you see populated on this page will depend on how much information you've included on your Facebook profile.
"View Activity" shows you a list view of all your Facebook activity that is organized by year since the date you joined Facebook. It includes such information as things you've written on friends' walls, photos and links you've shared, and photos you've been tagged in.
The settings cog includes a privacy setting that shows you what your Timeline will look like to specific Facebook friends or people on Facebook who are not your friends. The settings feature also allows you to add a Facebook badge to your own website. It's not clear today if the settings cog will change once Timeline goes public.
A little further down from your cover photo, you'll see your basic information listed, which includes where you live, where you studied, where you work, or other information that you may have included in your profile. You will also see a photo montage representing your Friends list, another photo showing the number of photos you've been tagged in, a map showing where you've lived, and a list of all the Facebook pages you've Liked.
There is also a down arrow that, when you click on it, will show you any new Open Graph Facebook apps you've added to your Timeline, such as the new The Wall Street Journal app. Here's an example: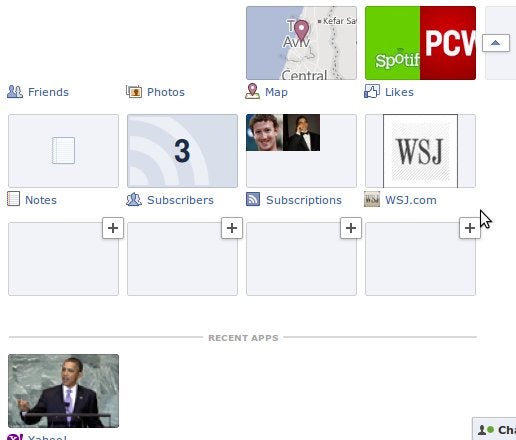 New Status Box Adds Life Events
Below Timeline's top section, you will see a new status box, where you can share photos, updates, and links just as you do on your current Facebook page. There are also five new icons that let you add specific life events to your profile. The icons represent: Work and education; family and relationships; living (buying a home, vehicle, etc); health and wellness; and milestones and experiences (awards, driver's licenses, etc).

The list of things you can add to your profile is pretty exhaustive: It includes jobs, schooling, engagement and marriages, new children and pets, deaths of loved ones, buying a new house or car, getting a new roommate, breaking a bone, undergoing surgery, overcoming illness, learning a language, getting your driver's license, receiving an award, or traveling to a new destination. We'll leave it for another post to discuss the privacy implications of adding all this data.
Privacy Bugs?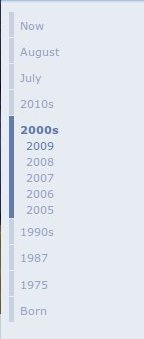 One thing to keep in mind is that as you add content to your profile using the new status box, be sure you always check the privacy settings for everything you share. In my tests, when I shared something from the Timeline update box, it was automatically marked as public, despite the fact that my default privacy settings used to be to share with specific friends only.
That may be a bug, however, as my privacy settings returned later on, although I did have to reenter them. It's not clear what happened. I have contacted the company to find out what's going on.
Below the new status box, you will see your Facebook activity separated into boxes allowing you to scroll down the page and see all your Facebook activity. To the right of the main column, you will see a condensed timeline showing specific years or decades.
When Timeline was first activated for my profile, it took a few minutes before Facebook's servers finished processing all my information. When I started, Timeline only listed the present, the past few months, 2010, and the rest of the "2000s" as one gigantic blob and then my birth. But eventually, it added the 90s, 1987, and 1975 based on information shared by me and my friends. Clicking on a year or decade in the navigation column will take you to that point in your Timeline.
As you scroll down your Timeline, a virtual toolbar will remain static at the top of your screen.

This is the status update box and it is where you can share new photos, links, updates, and so on. The right-hand column also is static, and will stay with you as you scroll down the main content column.
Now that you know how to get around Timeline, here's how to get started.
Choose Your Cover
The most impressive part of Facebook's new Timeline is the cover photo that most people will see when they land on your profile. At first, the canvas will be blank. You can change this by hovering over the cover photo area. You will then be prompted to either upload a photo from your computer or choose one of your Facebook photos.
Keep in mind as you're choosing an image that cover photos are never private, just as your profile picture is not. That's unfortunate since I wanted to include a photo of me, my wife, and our newborn baby, since I feel that represents my life right now. The problem is my job makes me a semi-public person, and I don't want the whole world seeing photos of my family if they happen to stumble across my Facebook profile. So I decided to use a photo of my dog instead. He's already a legend anyway, just ask the joggers who frequent Prospect Park in Brooklyn. Actually, on second thought, don't. Moving on…
Check Your Visibility
So you've chosen a cover photo that you don't mind the whole world seeing. Now it's time to see what Timeline is already showing you and then perhaps fill out some events from your past, right? Well, not so fast. Before you get ahead of yourself, it's best to check your new profile's public visibility to see what shared links, photos, comments, and other things might come back from the past to haunt you.
To do this, click on the cog just below the right side of your cover photo and select "View As…" A box will appear at the top of your profile; click on the blue "public" link in the first sentence. Now you're viewing your profile as a random stranger. Any information on your profile that you don't want to share–and is not exclusively public–can be removed by clicking on the "x" in the top right corner of the story box. In my tests, the remove button did not work, but remember: I'm working from a developer preview, so bugs are to be expected.
Edit Your Timeline

As you scroll down the page, you will be greeted with Facebook activity from your past, as well as historical dates that predate Facebook, such as your birth. Facebook throws a ton of information into your Timeline and it's impressive how well organized your historical information is with the new functionality.
But as you go through it, there may be some stuff you find that you don't want your friends to see such as a bad photo, stupid status updates, and so on. To get rid of anything you don't want people to see, hover over the right corner of the story box and click on the pencil icon, then select "Hide from Timeline."
Choose Timeline Features
As you're wandering through your Facebook past, you may also find some memories you want to emphasize, such as a photo from a great vacation, a video, or an article link. If you want to highlight a photo, for example, hover again over the top right of the story box.
This time, select the star icon and click it. Your content will now take up the full width of the Timeline content area. If you want to put the photo back to a normal story size, just click on the star icon again.
There are certain things that Facebook automatically highlights. These usually are life events such as graduations, marriage, new jobs, and so on. There is no option to make these event boxes smaller.
Add Your Photos
As you go through your Timeline, you'll come across these important life events. Timeline lets you add a photo to these events if you choose, as well as (in some cases) a short text explanation of your memory. In my tests, Facebook didn't allow you to delete life events from within your Timeline. It's not clear if that's a bug or not, so it's best to withhold judgment, for now.
Check Your Birthplace
You don't have to do this, but if you want to include information about your birth, the first thing you should do is see if Facebook got your birthplace right. It looks like the social network assumes you were born in the location listed as your hometown in your profile. But for many people, myself included, your birthplace is not necessarily your hometown.
I consider my hometown to be Regina, Saskatchewan (it's in Canada, look it up), because that's where I spent the bulk of my childhood through high school. But I wasn't born there. The good news is that if you change your birthplace, it won't change the place listed as your hometown.
Timeline might inspire some grumbling from people who prefer the old profile page, but, in my experience, the new layout is a great way to see your Facebook content. It also has privacy advantages since you can see just how much of yourself that you have shared on Facebook. A sobering look at your personal data online may just inspire privacy-minded individuals to permanently delete some items from their Facebook profile.
But there are also some privacy concerns you need to consider.
Facebook is essentially providing the opportunity to include very personal data into your profile such as your medical history. Sure, that's a part of your life, and some people may enjoy including this data in their profiles to share with friends. But before you go adding your chemotherapy history to your Facebook profile, you may want to consider long and hard about whether this is information you want residing on Facebook's servers.
Connect with Ian Paul (@ianpaul ) and Today@PCWorld on Twitter for the latest tech news and analysis.