Shortly after Mark Zuckerberg unveiled a major overhaul to Facebook at the company's f8 conference last week, some informal surveys and Facebook chatter found many users are not fans of the changes. But are Timeline, media integration, and the introduction of Open Graph apps really that bad?
I personally can't wait for Timeline to roll out on my Facebook account. Mark Zuckerberg said at f8 that the redesign to the user profile section will compile past posts, pictures, and activities to help show "the story of your life." Zuckerberg may be overselling the concept a bit, and it remains to be seen how well the underlying algorithm picks and chooses compelling moments from my past activity, but Timeline is a long-overdue upgrade that will finally make profile pages actually provide a user profile.
Right now, profiles are anchored by a user's wall — a disorganized stream of consciousness from me, people I know, and people I don't really know. Click the "Info" tab to get a more traditional user profile, based on static information gathered at some point in the past from a single questionnaire. A huge social network like Facebook can do better than that and now it is. Timeline could finally deliver a constantly-updating, algorithm-based profile. Hasn't every Tumblr blogger wished sometimes to automatically update their feed without taking all that time to actually synthesize their thoughts and write?
More Media, More Sharing
I suspect that Facebook's efforts at integrating media services like Spotify and Netflix into the network won't go down exactly as intended. I don't expect to spend much time simultaneously watching or listening to something with my Facebook friends. Perhaps that will happen in the youngest demographics, but I'm more excited about the prospect of Facebook as the ultimate discovery engine for music and other media. This is why social is supposed to be so exciting, right? The capability to tap in to your network to recommend new tunes and TV shows is something all media services try to integrate. Few have succeeded because they lack the critical mass of users that Facebook has.
The promise of other Open Graph apps only expands this universe of opportunities to collaborate, discover, and share. Need a jogging partner on short notice, or a recipe recommendation from a friend whose tastes you trust? Soon it could all be within reach in one place.
Creepy Factor?
But isn't all this a little bit scary? What about privacy? Do I really want the world to know how many times I listened to Pit Bull and Nicki Minaj last week?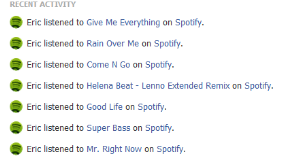 Yes, Facebook continues to cultivate an ever-increasing creepy factor. I don't like Mark Zuckerberg's apparent disdain for the very concept of privacy. This is why the backlash seen in the past week is good. It helps keep Facebook and Zuckerberg in check by raising important concerns, boosting the public's awareness of possible issues, and pressuring Facebook to include all sorts of opt-out and privacy controls.
As PCWorld's Jared Newman points out, this is just the latest in a string of backlashes against changes to Facebook that shove us into sharing more of ourselves on the social network. There was a freak-out when the feed of friends' status updates and activities first debuted, and now it's the heart of the network. Facebook is going to keep pushing us to be more public, and we should keep pushing back, but so far the benefits have outweighed the costs for most users. These new changes are a particularly strong shove, but I don't think we've neared the point of being pushed off a cliff just yet.