Asus's UX Ultrabook, the first in this new class of laptops, to be introduced now has a firm announcement date: October 11.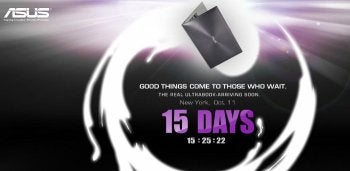 Way back in May, the Asus UX Ultrabook was held up as a prototype of a new class of thin and light laptops that would challenge the MacBook Air and redefine Windows laptops. Well, get ready, because the influx is about to start.
Asus now has a single splash page up on its Ultrabook site, simply declaring that "the real Ultrabook" will arrive soon. Presumably at a New York City press event, Asus will show off and announce availability of the UX21, the 11.6-inch model originally demoed with Intel at the spring Computex tech show in Taiwan with Intel, A 13.3-inch model, the UX31, also was shown. Here's a video discussing those announcements:
In Video: Ultrabooks at Computex
But wait, there's probably more. Last month, we also heard several reports that Asus would be introducing not just one or two Ultrabooks, but possibly five, six, or seven models, with prices expected to range between $799 and $1999.
Unless Acer has a surprise up its sleeves and will be springing its Aspire 3951 Ultrabook on us soon, as earlier reports suggest, the Asus UX Ultrabooks may be the first of this class of ultraportable laptops you'll be able to own.
Other than Sandy Bridge Core i5 or i7 processors, a thickness under 0.7 inches, and a weight under 3 pounds, we won't really know for sure until October 11 if there will be any major surprises with these UX Ultrabooks. But, given how much Asus (and Intel) have invested in the project, I like to think our patience will be rewarded.
Via Blogeee.net and Liliputing
Follow Melanie Pinola (@melaniepinola) and Today@PCWorld on Twitter.