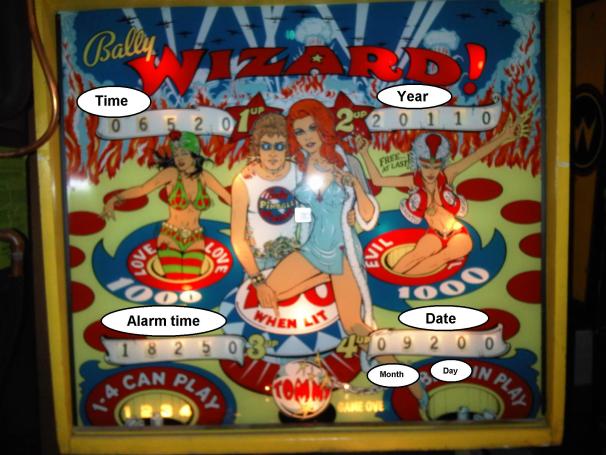 Yeah, I know; you're probably getting sick of hearing about all the cool things people make using the Arduino microcontroller, but check this: A 1975 Bally Wizard pinball machine transformed into an atomic-synced alarm clock. A what? A rad-looking pinball machine with bad-ass chicks and dudes who light up, sound to wake you up, and a clock to tell you time until you go to bed.
Network analyst Alan Amon put one together in the basement of his Ontario home. He created the clock using an Arduino microcontroller (duemilanove), a GPS receiver, and an 8-relay board, along with some other bits and pieces.
Time is calculated using the GPS, which sends out a line of ACSII data; the Arduino waits, and receives the data that reports time and date. Instructables offers a more intricate break-down of the process. Sparks and electricity will fly, so newbies be warned: If you've never seen the interior of a pinball machine; it's probably best not try this on your own.
The pinball-clock works by revving up at your appointed time of alarm, and resets its display to the current time, year, alarm time and date (month and year). The Bally Wizard's four-player game score display is set to these elements one-by-one, left to right, like a ringing, blinking slot machine–Or like a pinball machine in play!
The clock shows the time as long as a GPS signal is detected, and it shuts down at your selected time (when you sleep). You don't have to worry about daylight savings time, as the clock will automatically adjust, and in the case of power outages, it will maintain settings as long as power is restored before the alarm time.
An awesome feature of this clock is that it still functions as a normal pinball machine–as long as you turn off the Arduino!
Like this? You might also enjoy…
Get your GeekTech on: Twitter – Facebook – RSS | Tip us off