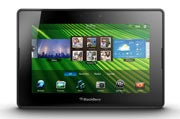 Is Research In Motion's BlackBerry PlayBook headed for a fire sale? It certainly looks that way as the 7-inch tablet's retail prices plummet.
The PlayBook, which debuted at $499 for a 16GB model, now costs just $299 at Staples, after a $100 rebate on a Visa prepaid card. Best Buy and Office Depot are offering similar deals, except they're giving away store gift cards, instead of a prepaid card that can be spent anywhere.
Meanwhile, readers tell Boy Genius Report that Walmart is ringing up the 16 GB Playbook for $250 in an unadvertised sale, but so far those reports are unconfirmed.
We knew this was coming. RIM told investors earlier this month that shipments of the BlackBerry PlayBook dropped to 200,000 units last quarter, from 500,000 during the quarter before that. To boost sales figures, the company said retailers would cut prices with rebates.
But this is already the second round of discounts for the Playbook in September. In a weekend sale earlier this month, Best Buy dropped prices by $50 for the 16GB and 32GB models (by $150 for the 64GB model).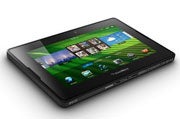 I have a soft spot for the Playbook because of its breezy multitasking and swipe-based navigation, but the tablet doesn't have enough good apps to take advantage of its interface, and at launch the software was far too unstable.
The Blackberry Playbook's new sale prices would look more attractive if the rebates came in cash instead of gift cards and prepaid cards. Consider revisiting this blighted tablet next month, when RIM plans to add support for native e-mail and Android apps, but not unless prices are the same or less than they are now.
Follow Jared on Facebook, Twitter or Google+ for even more tech news and commentary.