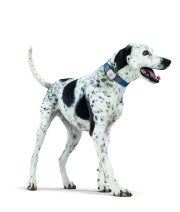 If you're a pet owner, you've probably experienced that moment of dread when you come home and your dog or cat isn't anywhere to be found. Don't you wish you could send them a text and ask them where they are? It might sound ridiculous, but a new gadget coming can almost let you do just that. The Tagg Pet Tracker by Snaptracs, a subsidiary of Qualcomm, uses the power of GPS and mobile technologies to help you keep track of your furry friends. The Tagg tracker easily snaps onto your pup's existing collar, but it can't be removed by paws with non-opposable thumbs. Got an active dog? No worries, the tracker can withstand running, digging, Frisbee-catching, rolling in mud and even swimming. You can set up boundaries for your pet, like your backyard or your block. If your dog leaves that safe zone, you'll get a text message or an alert via e-mail. You can then see their location on a map via the Tagg Website. There's also an accompanying mobile app for Android and iOs so you can track their location on-the-go.
Tagg will work with cats, too, but only cats over 10 pounds. You should be aware, however, that most cat collars have a safety, break-away feature that releases the collar if they get it stuck on something (to prevent them from choking). Also, the 10 pound rule applies to dogs, too. The tracker is simply too heavy for a teacup Chihuahua or other tiny four-legged friends. The service is getting a lot of buzz in the pet industry and especially from animal shelters. If you adopted your pet from a shelter, there's a likely chance it was microchipped too. The microchip is an excellent way for identifying found pets at shelters, but many pet owners forget to register their pets' chips so it is hard to identify them. The Tagg tracker can help pet owners find their pets before they end up in the shelters. "I've been in the pet industry for more than 40 years, and Tagg – The Pet Tracker is the first product that got me excited about the possibilities for pet parents to really keep their pets safe," said Mike Arms, President and CEO, Helen Woodward Animal Center. The service ties into Verizon's network so you should have solid coverage all over the country. The Tagg Master Kit will ship later this month and includes all hardware and one full year of service for $200. The iPhone and Android apps are free. That isn't a cheap price, but when it comes to my pet's well-being I'm willing to shell out a lot.
When you purchase through links in our articles, we may earn a small commission. This doesn't affect our editorial independence.