Samsung announced Monday that the Samsung Galaxy Tab 8.9 Android tablet is available for pre-order now, and will ship October 2.
The 16GB Tab 8.9 is priced at $469 and 32GB Tab 8.9 is priced at $569. Note: Prices for Galaxy Tab 10.1 tablets with similar capacities are only about $30 more than their Tab 8.9 counterparts.
The Tab 8.9 was first shown off earlier this year, alongside the Galaxy Tab 10.1 at the CTIA show in Orlando. It was originally expected to ship in summer 2011.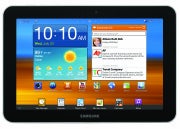 The Tab 8.9 is only the second tablet to ship at that screen size. What we have already seen is this size–T-Mobile's G-Slate–showed that 8.9 inches could actually be a dark-horse sweet spot for a display. It makes a nice compromise between the larger screens of tablets like the Apple iPad 2 and the Tab 10.1 and the more compact 7-inch models, such as Acer's Iconia Tab A100.
The Galaxy Tab 8.9 may have a smaller display than the Tab 10.1, but it matches its 10.1-inch sibling in one respect: It measures just 0.34 inches deep.
In my testing, I found the G-Slate to have pleasing proportions in my hand. It is large enough to enjoy the view and get plenty of words on screen, but small enough to be unobtrusive. Its competitor, the G-Slate, was bulky and felt every bit of its 1.39 pounds. That issue shouldn't be a problem with the Tab 8.9, which weighs just 0.99 pounds; that's 0.25 of a pound less than its sibling, the Galaxy Tab 10.1.
The new tablet's TouchWiz UX interface has some strong features for customization, as well as for editing images, and interface tweaks make navigating the Android 3.1 Honeycomb operating system easier than using the stock Honeycomb. Samsung includes a slew of services for consumers (its Media Hub, Music Hub, Readers Hub, and Social Hub are all present), and the tablet also offers features for business users like support for Exchange Active Sync version 14, on-device encryption, Cisco VPN, and WebEx.
Also Announced: Two Galaxy Players
In addition to formally launching the Tab 8.9, Samsung unveiled its plans for the Wi-Fi Galaxy Player 4.0 and 5.0. The Galaxy Player is essentially a phone-free version of the company's Galaxy mobile Android phones, the players offer 4-inch and 5-inch displays, respectively, and will sell for $229 and $269, respectively.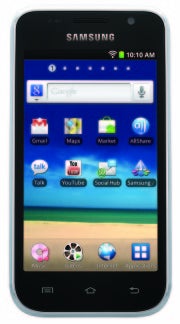 The Player idea is a good one. These petite plastic slabs are like mini-tablets or contract-free smartphones (without phone capabilities). With one of these Galaxy Players, you can get in on all the Android app and media playback goodness of a Samsung smartphone, without footing the monthly bill. It's certainly a strategy that's worked for Apple with its iPod Touch, except these players have larger displays than Apple's does.