Android devices have outsold the iPhone by a 2-to-1 margin in the past three months, according to a new Nielsen survey.
Apple's catch-phrase — that the iPhone's user-friendly interface "just works" – wasn't working on a majority of the buyers: 56 percent picked an Android device; 28 percent chose on iOS device.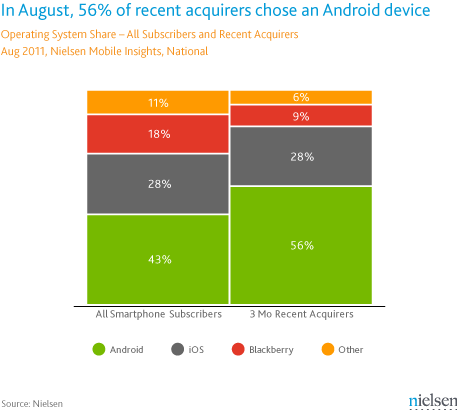 Nielsen says the "preferences of these so-called 'recent acquirers' are important as they are often a leading indicator of where the market is going."
But there's a caveat that will likely prevent Android from leaving Apple in the dust. The unveiling of the iPhone 5 is expected practically any day now, and Nielsen notes that "every time Apple launches a new iPhone or makes it available on a new wireless carrier, there is an increase in their sales."
It's also worth noting that Apple continues to hold its own against an army of Android devices from a slew of manufacturers despite offering just a single line of smartphones. Perhaps something does "just work" with the iPhone after all.
Among all smartphone owners — not just recent acquirers — 43 percent own an Android device; 28 percent have something from Apple; 18 percent have BlackBerrys; and everything else makes up the remaining 11 percent.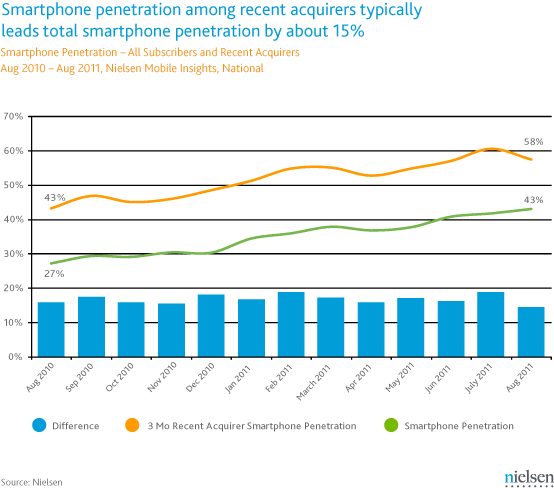 While the release of the iPhone 5 might take some of the wind out of Android's sails (and sales) this fall, there's nothing on the horizon to stop the march of smartphones in general — 56 percent of recent acquirers chose one over a feature phone.
Follow Eric on Twitter, and at ericmack.org. Follow PCWorld on Twitter, too.