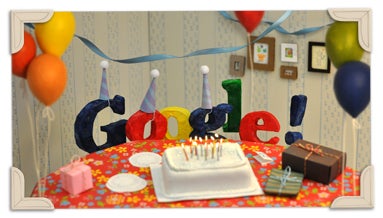 Google enters its teens today and celebrates with a Google Doodle of what else? a birthday cake as it has done in previous years.
Today's doodle is a little more elaborate than most previous birthday doodles. The Google logo is there, all right. But you might notice there's an exclamation point after the logo. That was part of the original emblem—something it ditched, thankfully, in 1999. The logo is also obscured behind a birthday cake, presents, party streamers, cone hats and balloons.
1998
Although most of the time Google celebrates its birthday today, the google.com domain was registered on Sept. 15, 1997 and Google the company wasn't incorporated until Sept. 4, 1998. On at least two occasions in the past, Google has split the difference in those dates and celebrated its birthday on September 7.
Google didn't start posting birthday doodles to its main search page until its fourth year anniversary in 2002.
True to high-tech mythos, Google was started in a garage by two Stanford students, Larry Page and Sergey Brin, with $100,000 in seed money from Andy Bechtolsheim, a co-founder of Sun Microsystems.

1999
But it didn't stay in that garage for long. Less than a year after Google incorporated, it had already moved twice when in June 1999, it announced it had secured $25 million in funding for its operations.
2000
By 2000, things began percolating for the search company. Its main rival, Yahoo!, announced it would be using Google's search engine for its site. Meanwhile, it hit the 100 million search queries a day mark and launched its AdSense program.
2001
The next year the company went global, setting up its first international office in Tokyo. It also added a new chairman of the board, Eric Schmidt, who soon became CEO of the company, and it branched out into image searching.
2002
Google Labs, where the company develops new offerings, as well as Froogle, its shopping search engine, and Google News were all launched in 2002.
2003
The next year Google got into the blogging business with the acquisition of Pyra Labs, maker of Blogger. It also launched Google Print, now Google Book Search, which gave searchers the power to ferret through excerpts from thousands of books in digital form. 2003 was also the year that lexicographers recognized a new verb in the English language: to google.
2004

In 2004, Google's search index reached eight billion items. As it moved into its new digs, the Googleplex, its garage days were a distant memory. A most important development during the year was the launch of its web-based mail service, Gmail.
2005

Maps became a focus of the company in 2005, along with customizable home pages (iGoogle), an online news reader (Google Reader) and Google Analytics, for discovering Web metrics. The company also began taking baby steps into the wireless realm by introducing mobile versions of Gmail, Blogger and Search.
2006

In 2006, Google bought YouTube, and the following year it further expanded the global reach of Google Maps and the audience for applications like Google Docs and Gmail. It also added street level photography to its maps offering, which opened a can of privacy worms for the company around the world.
2008

Google continued to reach beyond its search roots in 2008 when it launched a mobile phone operating system to compete with Apple's popular iPhone, and it even waded into the browser wars with its own offering, Chrome.
2009
Browsers and mobile operating systems weren't enough for the company, though, and in 2009, it launched its own lightweight operating system, Chrome OS, although it wasn't until 2011 that any computers running the system began shipping in volume.
2010
By 2010, Google was a full fledged behemoth. As such, news about its gee-whiz developments began to take a back seat to less flattering notices. There was a WiFi scandal, where it was discovered the company was collecting information from open wireless networks. It joined Verizon in a net neutrality pact that appeared to some to be jumping in bed with the devil.
2011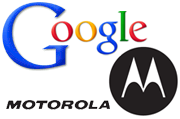 In a move that could transform the company yet again, Google in 2011, entered into an agreement to acquire the mobile phone maker Motorola Mobility for about US$12.5 billion. Also in 2011, in one of the largest settlements ever, Google agreed to pay $500 million to settle a case involving the importation of illegal prescription drugs into the United States.
Over the last 13 years, Google has done an enormous amount to make the lives of many people easier and more productive. It's made a few missteps along the way, and it will undoubtedly make a few in the future. By and large, though, it appears to have tried to live up to its motto, "Don't be evil." That's something most of Google's users hope the company will continue to do for the next 13 years of its existence.
Follow freelance technology writer John P. Mello Jr. and Today@PCWorld on Twitter.