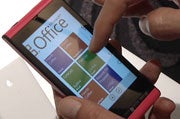 Windows Phone 7 owners rejoice: Your smartphone is finally getting the Mango update. The update will be pushed to existing Windows Phone 7 owners over the next few weeks.
Ever since Microsoft previewed the Mango update back in May, we've praised Microsoft for adding both necessary features (like third-party multitasking) as well as unique features (like its various connected Hubs).
As for those next-generation Windows Phones? We'll have to wait a few more weeks for those. We've already a few European phones from HTC, and we have one confirmed phone coming to the U.S. on AT&T: the Samsung Focus S.
[Read: HTC Radar 4G: T-Mobile's First Mango Phone Arrives]
As you might recall, Mango includes more than 500 new features designed to improve multitasking (yes!), offer more-dynamic information, and make apps and the operating system work together more efficiently. A few highlights include the Bing search engine makeover, which includes a localized search feature, enhanced Microsoft Office with Office 365 support, and an improved Music Hub with Last.fm, Slacker and YouTube integration.
Do you have a Windows Phone? Are you excited for the update? Sound off in the comments and let us know how your experience with Mango goes. For more on the Mango update, check out my hands-on review here.