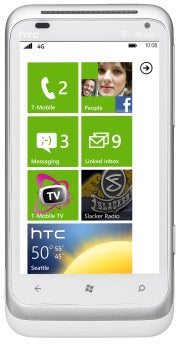 T-Mobile sure has been busy this week. In addition to the two Android phones it announced yesterday, the carrier has unveiled its first Mango phone: the HTC Radar 4G. The Radar is the first Windows Phone on T-Mobile that can take advantage of T-Mobile's HSPA+ 4G network.
Unlike the Samsung Galaxy S II and the HTC Amaze 4G, however, it won't support T-Mobile's faster HSPA+ 42 network; it will support HSPA+ 14.4. This doesn't mean the Radars's data speeds will be is slow, however. When we conducted our 4G smartphone speedtests this year, T-Mobile's HSPA+ 14.4 scored the fastest download speeds in our smartphone tests.
Despite the Mango and 4G-ness, the Radar doesn't seem too exciting on the specs front. It has a 3.8-inch LCD display and is powered by a 1GHz Snapdragon processor. With the Samsung Focus S coming out on AT&T, which has a 1.4GHz processor and a 4.3-inch Super AMOLED display, the Radar seems a bit, well, dated. Like most HTC phones, it has that attractive aluminum unibody design, which gives it a high-quality feel.
The Mango update includes more than 500 new features designed to improve multitasking, offer more-dynamic information, and make apps and the operating system work together more efficiently. For more on the Mango update, check out my hands-on review here. Mango will start rolling out to existing Windows Phone customers starting today.
Pricing for the Radar hasn't been announced nor has a release date. T-Mobile said it will be available in time for the holidays.