The Elder Scrolls, Chapter II: Daggerfall from Bethesda Softworks is the critically-acclaimed sequel to The Elder Scrolls: Arena, the very first game in the famous Elder Scrolls series of PC roleplaying games. Daggerfall expands and surpasses on every aspect of Arena's gameplay, delivering you into a sprawling fantasy world teeming with villages, tombs and castles to explore. Playing Daggerfall on a modern PC can be jarring–the game was released in 1996 for MS-DOS–but once you get used to playing a game with outdated graphics and cumbersome controls, you'll discover a well-written role-playing game that sucks you in for hours with a surprisingly exotic and engaging adventure. Of course since Daggerfall was released in 1996 you need a DOS emulator like DOSBox in order to get it running on a modern PC. For more information, check out our handy guide to playing Daggerfall on your Windows 7 PC.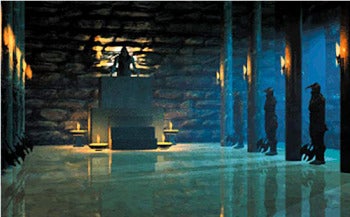 You start the game by creating a character from one of 18 classes and 8 different races, allocating points to a variety of different skills like archery, pickpocketing or thaumaturgy. Daggerfall has one of the deepest character creation systems I've ever seen in a PC game, more akin to a proper pen-and-paper role-playing game than a modern RPG like Fable: The Lost Chapters. If you're in a hurry you can breeze through character creation by answering a series of hypothetical questions and allowing the game to create a character based on your choices, much like the morality quizzes that distinguished character creation in the Ultima series of games.
Once you create a character, you'll find yourself in a dank dungeon with a few pieces of shoddy equipment and a simple quest: Find out why the deceased King Lysandus is haunting his former kingdom, and lay the spectre to rest. And while you can spend hours unraveling the dark plot that surrounds the good king's death to solve the mystery and save the kingdom (in one of six different endings), the real appeal of an open-world RPG like Daggerfall is having the freedom to blow off the main quest entirely and forge your own story in a world brimming with friends, foes, and fiends that dynamically respond to your actions. You move and explore the 3D world in real-time and engage enemies by using the mouse to swing a weapon or cast a spell, a complicated control scheme that takes some time to get used to.
What Daggerfall lacks in accessibility it more than makes up for with variety and freedom of choice: At one point you can choose to save a local villager from a rampaging band of werewolves, or join with the beasts and become a werewolf yourself. Sneaky skills such as lockpicking and pickpocketing allow budding vagabonds to get rich quick, but ply your thieving skills poorly and you'll attract the ire of local guardsmen. Ply the skills exceptionally well and you might be invited to join the Thieves' Guild, which opens up an entirely new branch of quests to complete and loot to collect–but brands you an enemy of rival guilds. The possibilities seem endless, and while this sort of open-ended gameplay inevitably leads all but the most focused players to spend hours wandering the world aimlessly, that's not always a bad thing. In my experience, exploring all the nooks and crannies of a virtual world is half the fun of playing an expansive RPG like this.
As you can probably guess, The Elder Scrolls, Chapter II: Daggerfall is a massive game that can be played for countless hours without ever finishing the main quest. That might be a turn-off for some players seeking a simple, straightforward adventure game with a clear path to victory. But if you're looking for a classic PC RPG that offers a staggeringly complex world to explore and inhabit, consider downloading Daggerfall. It's notoriously buggy and can be troublesome to get running on a modern PC, but if you're willing to invest the time and effort Daggerfall will reward you with hours of classic swashbuckling adventure.
Note: This link takes you to the vendor's site, where you can download the latest version of the software.
–Alex Wawro