30 Days With Windows Phone 7: Day 23
Once upon a time, I used my smartphone camera to take pictures of things so I could share them on social networks like Facebook and Twitter, With Windows Phone 7 "Mango" I can still do that, but "Mango" also comes with a whole new bag of tricks for the camera that are much more useful. For today's 30 Days With Windows Phone 7 post I will take a look at some of the more creative ways "Mango" uses the camera.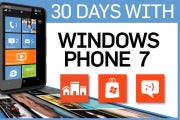 I do the shopping and cook the meals in our house, but my wife is the research assistant and creative genius behind choosing the meals. One of the most recent issues of Real Simple magazine came with a bunch of recipes broken down by weeks. The list of meals sounded tasty enough so we decided to give it a shot. The meals themselves were pretty good–although my kids didn't appreciate the use of more eclectic ingredients such as beets and butternut squash.
The part that was most interesting to me, though, is that the magazine had a page in the back with a listing of the meals and the necessary ingredients broken down by week. At the top right of the page was a Microsoft Tag–a small box with multi-colored circles like a QR code. I tapped the magnifying glass to open the Bing search function, then tapped the eyeball icon to switch to visual search. Viewing the page through the smartphone camera automatically detects and scans the Microsoft Tag and opens up information, including an option to email the complete grocery list for the recipes to myself.
The visual search works with standard QR codes too. I also found that I can use visual search to learn more about just about any book, DVD, or CD. I can view the cover of a book, DVD, or CD using the camera in visual search mode, and "Mango" will automatically figure out what it is, perform a search, and offer me links to access more information about it.
As cool as Microsoft Tags and scanning books and CDs might be, the coolest feature of visual search is the ability to translate text. You can scan text with the camera in visual search mode, and "Mango" can translate it to and from most commonly spoken languages. This will be especially useful for figuring out what the hell I am actually ordering at fancy French restaurants, or for understanding signs, menus, and other information when traveling abroad.
Truth be told, I don't think I've ever eaten at a fancy French restaurant, but I do think it will come in handy when traveling to foreign countries. Heck, I live in Houston and my Spanish is rusty at best, so I may even have a use for translating things locally on occasion.
Of course, like virtually all translation tools it is far from perfect so be careful about putting too much faith in it. But, the translation should at least give you some idea of whether a sign says "Danger: Do Not Enter" or "Party: Enter Here".
Read the last "30 Days" series: 30 Days With Google+