Since I last ran a reader Q&A a few weeks ago, I've received another compelling question. Reader Robert has an older Emachines desktop that recently developed a problem: "I installed a driver updater tool, and when I deleted it, it did something that changed my BIOS. The black screen appears when I boot up and reads: 'System BIOS shadowed. Check time and date settings. System CMOS checksum bad–default configuration used.'"
Robert says he's tried contacting both Phoenix Technologies (maker of the BIOS) and Emachines, and neither company could help. (The BIOS dates back to 2003, and the system itself is long out of warranty.)
Fortunately, this sounds like a pretty easy problem to fix. I don't think the driver-update utility is to blame here, but rather a poorly timed CMOS-battery failure. See, most desktop motherboards have a small battery that supplies power to the BIOS even when the machine is turned off. This battery might last two years or it might last 10, but when it fails, you'll often see an error message like the one above. (Your system will also fail to keep proper time, as the clock is one of the elements powered by that battery.)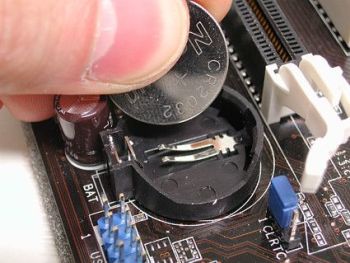 Most CMOS batteries are standard CR2032 "button" cells, which cost no more than a few bucks at your local drugstore, but check your motherboard documentation just to be safe. Replacing one is usually a two-minute job: pop out the old one, pop in the new one, and you're done. After that, you'll probably need to venture into the BIOS to reset the clock and double-check other system settings (like boot priority).
Just be glad this didn't happen to your laptop. Laptops use CMOS batteries just like desktops, but on most models they're difficult–if not impossible–to replace. Which begs the question: After all these years, why haven't laptop manufacturers figured out a better way to power the CMOS?
Download the Latest Security Tools to Your Flash Drive with SSDownload
Not long ago a neighbor came to me with a malware-infested laptop. Some particularly nasty trojan had made its way onto the system (despite the presence of a certain big-name security suite, cough, ahem), rendering it more or less inoperable. The Start menu wouldn't work, programs wouldn't run, and I couldn't even get Task Manager to appear.
In cases like these, I always turn to my trusty flash drive, which I keep equipped with a few of my favorite malware-busting security tools. And the best way I've found to make sure I have the latest versions of those tools is with SSDownloader (short for Security Software Downloader).
This open-source utility reminds me a lot of Ninite, the fab freebie that downloads and installs your favorite software. SSDownloader works much the same way, but obviously focuses exclusivley on security. The app is portable, meaning it runs fine from a flash drive. (There's no installation required.)
When you launch it, you'll see five pretty self-explanatory tabs: Free Antivirus, Security Suites (Trial Versions), Malware Removal, Firewalls, and Other Tools. Within these tabs you'll find around 50 programs; check the box next to the ones you want to fetch, then click Download. It's that simple.
Impressively, SSDownloader can auto-detect your operating system (Windows XP or Vista/7) and even whether it's 32- or 64-bit; it'll download the correct software versions accordingly. It doesn't run or install any of them, though–that part's up to you.
Here's a random sampling of what's available: Avast Anti-Virus Free, Panda Internet Security (trial), Malwarebytes Anti-Malware (a personal favorite), HiJack This, Comodo Firewall Free, WinPatrol, LastPass, and CyberGhost VPN. In other SSDownloader makes it a snap to download a wealth of essential software–most of it freeware.
The interface is a little rough around the edges, but I can't recommend this tool highly enough.
If you've got a hassle that needs solving, send it my way. I can't promise a response, but I'll definitely read every e-mail I get–and do my best to address at least some of them in the PCWorld Hassle-Free PC blog. My 411: hasslefree@pcworld.com. You can also sign up to have the Hassle-Free PC newsletter e-mailed to you each week.