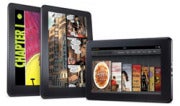 Amazon compromised on several hardware features of its Kindle Fire to deliver the most affordable mainstream 7-inch media tablet. Arriving on November 15 for $199, the Kindle Fire will enter a crowded market dominated by Apple's iPad.
Since the market also contains several other Android competitors, can Amazon claim the number two tablet spot? Let's take a look.
As previous reports indicated, the Kindle Fire looks a lot like the BlackBerry PlayBook because it was designed by the same company that helped Research In Motion build that tablet. The Fire is slightly thicker than the PlayBook, yet thinner than 7-inch Android tablets such as the Lenovo IdeaPad A1 or the Toshiba Thrive 7″. Apple still maintains the slimmest tablet in the bunch.
The screen on the Kindle Fire uses IPS technology (also found on the iPad), with a resolution of 1024 pixels by 600 pixels, which is in line with most current 7-inch Android tablets. The notable exception here is the Toshiba Thrive 7″, which uses a higher-resolution display.
In order to keep the price down, Amazon only bundled 8GB of on-board storage, the same amount found on the Nook Color or the Iconia Tab.
Amazon didn't skimp too much on performance for its media tablet. The Fire packs an unspecified dual-core processor (probably 1GHz), but there's no word on the amount of RAM. What Amazon did skimp on are cameras–there's no front or back camera, and there's no MicroSD card slot (Amazon is banking on cloud storage), no HDMI, GPS, or 3G capability.
[RELATED: Amazon Announces $199 Kindle Fire Tablet, Clutch of New Kindle E-Readers]
For Media Consumption Only?
Gone is the time when the iPad was the most affordable tablet, and Android manufacturers struggled to even match its price. By removing all the above features, Amazon managed to keep the price of the Fire at $199–a remarkable feat when you consider that the closest competitor (in price, but not features), the Nook Color, costs $50 more. Lenovo's tablet is also about $50 more expensive, but only packs a single core processor, although for your extra bucks you do get dual cameras, GPS, and 16GB of storage.
The lack of cameras, GPS, expandable storage or even Bluetooth clearly sets the Amazon Kindle Fire tablet apart as a media consumption-only tablet.
You will be able to download various productivity apps from the bundled Amazon Appstore, but the main purpose of the tablet, given its low entry price, is to consume content from Amazon, whether it's movies, books, magazines, music, or games. For that purpose, even with missing hardware features, Amazon has a very interesting proposition for casual customers as an alternative to the iPad.
Video: Amazon Unveils Kindle Fire Tablet, New E-Readers
Follow Daniel Ionescu and Today @ PCWorld on Twitter