At a Glance
Expert's Rating
Pros
CD/DVD printing
Good speed and print quality
Cool-looking touch control panel
Cons
Ink costs are somewhat high
Our Verdict
A futuristic-looking touch panel, attractive output, and good speed highlight this Canon multifunction. The CD/DVD printing is a nice additional feature.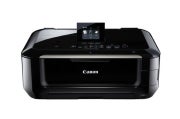 If you're a fan of futuristic controls, you'll love the handsome Canon Pixma MG6220 color inkjet multifunction (print/scan/copy). The controls and LCD screen are embedded into the scanner lid, and you'll feel like you're operating the transporter in Star Trek the first time you use them. Beyond that, the Pixma MG6220 serves up high-quality printouts and decent scans, and it's fast for an inkjet MFP. However, you pay a lot for this model's good looks ($200 as of September 22, 2011), and its ink costs are a tad high as well.
Setting up the MG6220, whether through USB, ethernet, or Wi-Fi, is easy. Canon has updated the look of the installation-routine dialog boxes, though they still aren't as professional in appearance as Kodak's. Fortunately, the software bundle that handles scanning, OCR, and other chores is as efficient and capable as any of the competition's.
Yes, the MG6220's control panel, which debuted last year on the pricier Canon Pixma MG8120, looks futuristic. And yes, it has undeniable "wow" appeal. But we have the same complaint about it now as we did before: It isn't as efficient as it could be. The three buttons below the flip-up 3-inch LCD screen, which you use for selecting options on the display, seem like an unnecessary alternative to the usual navigation and selection buttons. Frequently you have to lift your fingers off the navigation controls and shift over to the selection buttons, which adds up to a lot of wasted motion.
Despite our gripes about the control panel, the MG6220 is generally easy to use, with the possible exception of printing on CDs or DVDs. The task, which involves inserting a tray into a separate feed slot, is easy enough after you've done it once, but Canon's convoluted instructions make getting up to speed harder than it should be.
The MG6220's media handling is a bit beefier than it might appear at first glance. In addition to the 150-sheet rear vertical feed for all media types, you'll find a 150-sheet drawer for plain paper hidden at the bottom of the unit. The MG6220 automatically duplexes (prints on both sides of the paper), but it offers no ADF (automatic document feeder) for the scanner–this is not an MFP for scanning long documents. The unit includes media slots for CompactFlash, MultiMediaCard, Memory Stick, and SD Card, and it also has a USB/PictBridge port.
Speed and print quality are high points for the Pixma MG6220. Text looks quite good–sharp and dark–and arrives at a brisk 7.8 pages per minute on the PC, and 8.14 ppm on the Mac. Photos printed on plain paper look nice, though a tad washed out, and they print at over 3 ppm (snapshot size). Full-page photos printed to glossy paper appear vibrant and clear, but print at only 0.6 ppm; that's about average for an inkjet MFP.
The MG6220's ink costs are a bit pricier than average. The 311-page black cartridge costs $16, which translates to a high 5.1 cents per page. The cyan, yellow, and magenta cartridges cost $14 each, and last from around 450 to around 480 pages (about 2.9 cents per page per color). A four-color page will cost you just a hair over 14 cents per page. Two further inks, a photo black and a photo gray, are used mostly for images but add a small amount of cost to typical office documents with color elements.
If you want an MFP that delivers the basics with better-than-average speed and style, the Canon Pixma MG6220 is a worth a look. If you need an ADF (and can do without the space-age looks), check out its more business-oriented cousin, the Canon Pixma MX882, which includes an ADF and a more conventional control panel for about the same purchase price.