Today is the inaugural Box.net conference for customers and developers–BoxWorks. Box.net CEO and co-founder used the event to announce a slew of new features and updates, as well as a few key partnerships.
Box is one of the pioneers of cloud-based storage solutions. Formed in 2005, Box.net is a leader in the field and has helped shape the direction of the industry. One of the driving forces behind Box.net is the goal to transform the way users collaborate and share information at a fundamental level.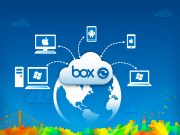 The word "cloud" is used to describe an eclectic and elusive mix of technologies and solutions–most of which are pure marketing hyperbole. Beneath the hype, though, there is value for businesses that embrace the cloud. The cloud lets IT focus on strategy, innovation, and business intelligence instead of spinning its wheels on infrastructure maintenance and support.
Box.net CEO and co-founder Aaron Levie took the stage this morning at the Hotel Nikko in San Francisco to reveal details of where the company is now, and reveal big news about where it is heading. Levie told the BoxWorks audience that Box.net currently has 7 million registered users spanning 100,000 businesses–including 77 percent of the Fortune 500. Levie also claimed that over 150 million files are accessed each month on Box.net.
Box.net strives to break down barriers between hardware and software platforms. Levie is not shy about poking jabs at Microsoft and Apple. Each has its own variation on cloud storage and data syncing, but their solutions are proprietary tools that only work among Microsoft or Apple devices respectively.
Levie explained that it is Box.net's goal to provide an online data sharing and collaboration platform that works for every enterprise and with every device. Box.net has a Windows client, iPhone and iPad apps, Android smartphone and tablet apps, and it rolled out a mobile version of the Box.net site built on HTML5.
Today Box announced a new version of the Windows Sync client, and the first-ever version of Box Sync for Mac OS X. A scripted demonstration on stage showed the audience how seamlessly a team spread out across the country can work together on the same files and information whether they are using Windows PCs, Macs, or tablets. No uploading files. No sending email file attachments. Box Sync just makes it all happen seamlessly.
Box.net unveiled a variety of security enhancements, and new social integration with Salesforce.com's Chatter platform. It also revealed new partnerships with HP–which will preload the Box Sync client on all business PCs, and Motorola–which is preloading the Box Sync for Android app on all Xoom tablets.
If BoxWorks is any indication, the cloud is more than just a buzzword. Box.net appears to be making the right moves, and forming the right alliances to continue working toward that goal of delivering sharing and collaboration for every enterprise across every device.
Mark your calendars. Box.net promises that next year's event will be three times as long and packed with three times more big news. BoxWorks '12 will be at the Westin St. Francis Hotel in San Francisco October 7-9, 2012.