The new iPhone that Apple is expected to announce on Oct. 4 is already on the shopping list of many BlackBerry and Android users. Research from InMobi, an independent mobile ad network, found that 41 percent of mobile users in Canada, the United States, and Mexico plan to buy the new iPhone.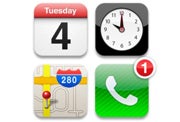 The study found that more than half of BlackBerry users polled plan to switch to the iPhone 5, and some 27 percent of Android owners are willing to switch as well, alongside 51 percent of current iPhone users. If these figures prove to be true, it could be the most successful phone launch for Apple to date.
Within the group of potential switchers, the study says, more than 50 percent of respondents said that they would buy the iPhone 5 within the first six months of its availability. This could help Apple increase its market share from 27 percent in June to a dominant 41 percent, the study predicts.
Before you read too much into these poll numbers, however, you should be aware that they refer to consumer interest in an all-new iPhone 5, featuring a larger screen and a new design. An iPhone 4S–a slightly improved iPhone 4 on the inside–would not fare as well with consumers, according to the InMobi study. In that case, less than 15 percent of consumers would be willing to drop their Androids (11 percent) and BlackBerrys (28 percent) for a new iPhone.
Android devices have outsold iPhones by a 2-to-1 margin in the past three months, according to a Nielsen survey this week. Nielsen is also wary of the impending iPhone launch, saying "Every time Apple launches a new iPhone or makes it available on a new wireless carrier, there is an increase in their sales."
Are you holding out your smartphone purchase for the next iPhone? Sound off in the comments.
Follow Daniel Ionescu and Today @ PCWorld on Twitter