Earlier this week, we told you how to turn off a new, potentially mortifying Spotify feature that tells your Facebook friends, in real-time, what you are listening to. If you're a closeted fan of, say, Alvin and the Chipmunks tunes, but your friends prefer death metal–well, the potential for embarrassment is high.
Our GeekTech tip worked fine, but now there's an easier way to keep your listening habits private. Spotify CEO and founder Daniel Ek tweeted Thursday that the music service has a very simple solution:
"We're rolling out a new client as we speak where you can temporarily hide your guilty pleasures," wrote Ek, adding that the new feature works like a browser's private mode.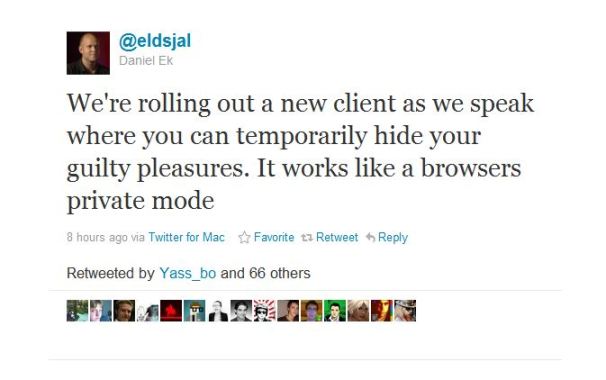 Here's what to do: If you're using Spotify's Windows client, click the File menu and select Private Listening.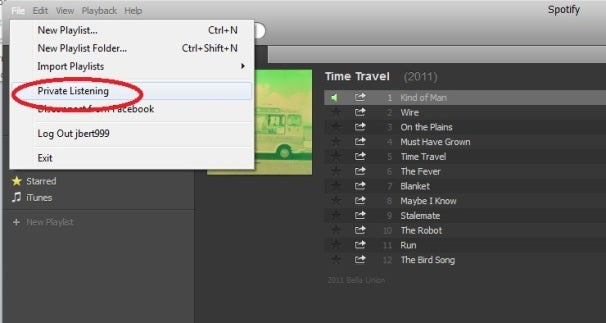 Mac users can go the Menu Bar, select Spotify, and choose Private Listening.
The private-mode option is certainly welcome, particularly since new Spotify users are required to link their accounts to their Facebook accounts.
If you don't activate Private Listening, the music service will post the tune you're currently listening to on your wall. Spotify will also display your musical selections on Facebook's live news-ticker.
Don't worry. Your Hannah Montana playlist will remain private–if you want.
Contact Jeff Bertolucci via Twitter (@jbertolucci) or at jbertolucci.blogspot.com.