When Apple announced the iPad, businesses were elated. Restaurants saw waiters equipped with iPads at tables, architects dreamed of pulling out tablets to check blueprints, and hair salons imagined apps that could help their clients pick a hairstyle. Then everyone found out what the price was going to be, and many of those dreams fizzled.
They were all just resurrected when Amazon announced the cheapest entry to the tablet market yet. At $199, the Fire is within reach of any waiter, not just those with white gloves. And it doesn't compromise noticeably on hardware for that price. It offers an 8-hour battery life, speedy operation with a dual-core processor, and similar specs to other Android tablets. There's no camera or GPS, but something had to go to keep the price low.
How Can Your Business Use the Fire?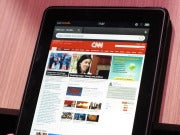 Amazon will center the Fire's user experience around book and media consumption, specifically off of its website. If you're looking for an experience identical to that of the iPad for $199, you'll be sorely disappointed.
Apps are available only through the pre-curated Amazon Appstore, and there is something to be said for cutting the flotsam out of the Android Marketplace. However, commonly used apps like Skype's and CNN's aren't available.
If you want employees to be able to review documents and email, you'll be able to do that with the Fire. If you're looking for a more robust productivity tool, you are better off with the iPad 2 or one of the higher-end Android tablets with access to the Android Marketplace, if you can justify the expense.
Which Businesses Will Like Fire the Most?
Small and midsize businesses (SMBs) that need to view media and documents, such as law offices and real estate agents, will want to snap up the Fire, provided they can do business via Wi-Fi and don't need roaming 3G–the lack of which will deter a number of mobile workers.
Students will like the price of the Fire, and that they can load documents onto it through a USB cable. In fact, students from elementary right through to university level may just be exactly who the Kindle Fire was made for.
Other E-book Readers Should Throw In the Towel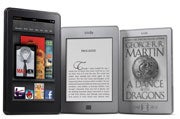 If your business was considering purchasing e-book readers, look no further. The Kindle brand has evolved so much from its humble roots as an e-book reader that it could be considered to not even be in the same category anymore. In fact, the category may have effectively been killed by the Kindle's capabilities and price.
The Nook Color, while comparably inexpensive at $249, doesn't offer the kind of ecosystem that Amazon does through its Appstore, and that extra $50 can make all the difference to the budget-conscious.
What's the Bottom Line on the Fire?
The Fire has no camera, GPS, or 3G access, or free-range access to the Android Marketplace. Only 10,000 of the 200,000 apps available there will be served through the Amazon Appstore.
Exchange support is only available through third-party apps, but the Fire does ship with its own built-in email app with POP3 and IMAP support. It doesn't ship with a calendar app–but with over 15,000 apps in the Amazon Appstore, it's likely a calendar app will be made available. The tablet can also run the popular mobile productivity suite Quickoffice, but not Quickoffice HD, which needs the Honeycomb build of Android.
The Kindle Fire is, plain and simple, made to be an inexpensive media consumption device, which many businesses will be able to use immediately. If that sounds useful, then at $199 it's at least worth ordering to take on a test drive.
Angela West dreams of opening a Fallout-themed pub featuring wait staff with Pip-Boys. She's written for big insurance companies, small wildlife control businesses, gourmet food chains, and more. Follow her on Twitter at @angelawest.