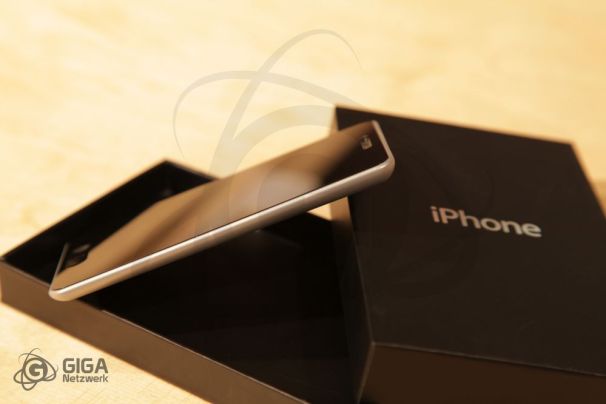 Are you a true Apple fan? Really? Well, where's your home-built iPhone 5 prototype?
The guys over at German iOS device blog BENM.AT have created a realistic-looking physical mockup of what they believe Apple's next iPhone will look like. And by "physical mockup," I mean a real, aluminum-unibody prototype case, not some lame Photoshop mock-up.
To quote their blog post, "The process to create this prototype is the same that's used to create the iPad. The back was machined from a sold [sic] block of aluminum, which was later treated with glass pearls to get the same slightly rough touch that we already know from the iPad."
Yes, they even went ahead and blasted glass pearls at the aluminum backing to get the rough-yet-soft touch of the iPad casing. Their prototype is slightly wider than the current iPhone 4 (59.94 mm versus 58.6 mm), but it's also thinner.
The team reportedly based their prototype on "CAD designs, hardware components, several leaked hints, cases, and recent, believable mockups." They then created a 3D model and built their prototype based on this virtual model.
Their prototype features a teardrop-shaped backing of soft, slightly rough aluminum–closer to the iPad and the iPhone 3GS than the iPhone 4. The teardrop shape is clearly visible–the prototype is 6.86 mm thick at the top and 5.33 mm at the bottom.
They've also changed the Home button from a circular physical button to an oval-shaped depression, because they believe that Apple is "moving away from the mechanical." According to the team, the new oval-shaped depression will be touch-sensitive, like the rest of the display. They suggest this is because the physical button takes up a lot of room inside the phone, and is the most-used button — and therefore likely to fail during the lifetime of the phone.
BENM.AT's mockup looks a lot like former Engadget chief Joshua Topolsky's April mockup. Topolsky's design, which he created based on a sketch from one of his sources and "credible rumors," features a tapered back, bezel-free screen, and oval-shaped home button. Similarly, BENM.AT's mockup also has what looks like an edge-to-edge screen (though there's no real way of knowing — after all, BENM.AT's prototype is simply a case without hardware).
The rest of BENM.AT's mockup is similar to the current iPhone 4, including discrete volume buttons. BENM.AT tells Engadget that their mockup fits nicely into some of the supposed iPhone 5 cases they managed to get their hands on.
Basically, it's just thinner and it looks like a mini iPad/Macbook Air (think the Air's teardrop design). The real reason it's cool is because, um, these guys actually machined an iPhone prototype out of aluminum and glass, and that's much cooler than my mockup.
Apple is expected to announce their latest iPhone on October 4. That's less than one week away so…good job, guys at BENM.AT…we'll revisit your mockup then.
Follow Sarah on Twitter (@geeklil) or on Facebook, or Google+and Today @ PCWorld on Twitter.