Occasional add-on incompatibilities have been a fairly common phenomenon each time Mozilla releases a new version of its free Firefox browser, but following the launch of Firefox 7 earlier this week, a different kind of add-on problem arose.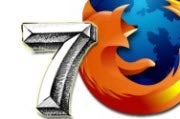 Specifically, for some users, the upgrade to Firefox 7 made it appear as if their add-ons had disappeared.
In response, Mozilla paused new updates to Firefox on Wednesday while it worked to fix the issue, and it also released a workaround for Firefox users who have installed Firefox 7. On Thursday, it rolled out a new Firefox update that eliminates the problem.
Mozilla is now encouraging all Firefox users to upgrade to Firefox 7.0.1, which is available for download from the Mozilla site.
Case of the Missing Add-Ons
"We've identified an issue in which some users may have one or more of their add-ons hidden after upgrading to the latest Firefox version, affecting both desktop and mobile," wrote Mozilla add-ons product manager Justin Scott in a blog post on Wednesday.
While it appeared to many users that the add-ons and their data had disappeared during the upgrade, both were in fact still intact, Scott explained.
Firefox 7 users can download a free Add-On Recovery Tool to restore their add-ons, but those who download Firefox 7.0.1 or update from within the Firefox About window won't have to worry about the problem.
In a separate issue, some users are finding their add-ons not just hidden but actually disabled after updating Firefox, Mozilla noted. Those affected by that problem will see their add-ons listed as disabled in the browser's Add-ons Manager; guidance for fixing the problem can be found on Mozilla's Firefox Help site.
85 Percent of Users
There are some 9000 free, community-contributed add-ons available for Firefox. Mozilla recently reported that roughly 85 percent of Firefox users have add-ons installed, so maintaining a smooth transition across releases is particularly important.
Incompatibility problems, in fact, have been a key concern voiced by critics of Mozilla's new rapid release schedule for the browser. In response, Mozilla is now working on a slower, 30-week release schedule for enterprise-oriented versions of the software complete with extended support.
Do you use add-ons with Firefox? If so, did you have any problems with this latest update? Share your experience in the comments.