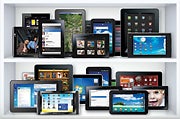 Between the popularity of Apple's iPad and the looming threat of Amazon's Kindle Fire, times are tough for other tablet makers. But their loss is your gain, as retailers have resorted to offering deep discounts on tablets that were, in all honesty, not worth their starting prices.
Here's a roundup of tablets that have recently received price cuts, along with a discussion of why you might want to consider buying each of them now.
BlackBerry PlayBook
The BlackBerry PlayBook is Research In Motion's 7-inch QNX-based tablet. QNX is the operating system that's supposed to represent RIM's future. The PlayBook originally started at $499 for the 16GB model, but you can now find it starting at just $299 at Best Buy.
Pros: Powerful multitasking capability permits apps to run in the background without restrictions, and swipe-based navigation works perfectly with the PlayBook's small screen. The PlayBook also handles Adobe Flash better than many Android tablets.
Cons: It has hardly any noteworthy apps, performance is buggy, and there's no native email or calendar (yet).
Verdict: RIM says that it's not abandoning the PlayBook. This is probably true, given how crucial QNX is to the company's future. This tablet is worth a look on the strength of its potential–but only after RIM adds email, a calendar, and Android apps to the platform.
HTC Flyer
A 7-inch Android tablet, the HTC Flyer runs Android 2.3 with HTC's Sense interface on top. Its starting price was $499, but the going rate will drop to $299 on October 1. The Flyer works with an active digitizer pen (sold separately for $80) that allows users to draw and scribble notes in a handful of apps.
Pros: The Flyer is a bit chunky, but its rounded edges and aluminum finish feel nice in the hands. A set of capacitive navigation buttons rotate from portrait to landscape mode depending on the hardware's orientation, reducing the chance of accidental presses.
Cons: Android 2.3 was meant for phones, not tablets. And because it uses that OS, the Flyer can't run tablet apps from the Android market. Also, the Flyer's single-core 1.5GHz processor seems outdated in a dual-core world.
Verdict: Its freshly lowered price enables the Flyer to edge out Samsung's original 7-inch Galaxy Tab as the go-to tablet for anyone who wants what amounts to a blown-up Android phone. Not a terrible option by any means, but certainly not state-of-the-art.
HP TouchPad
HP's first and only tablet was a failure when its starting price was $499, but the TouchPad quickly became a hit when its price plunged to $99 in August. The last we heard, HP had quickly sold a batch of these 10-inch tablets to its own employees, and it's not clear whether any will be left over for the bargain-hungry public. On eBay, new TouchPads are on sale for Buy It Now prices of $239 and higher.
Pros: WebOS's card-based multitasking is among the best on the market, and an active homebrew scene should keep the software in shape.
Cons: The tablet is thick and heavy compared to the iPad 2 and Samsung's Galaxy Tab 10.1. The WebOS software isn't as smooth or intuitive as Apple's iOS, and no one has a clear idea the operating system's long-term viability. Don't expect much activity in the App Catalog from now on.
Verdict: Even at eBay prices, the TouchPad is the least-expensive 10-inch tablet you'll find. It's probably best suited for users who like to tinker; if all else fails, you can always install Android.
Toshiba Thrive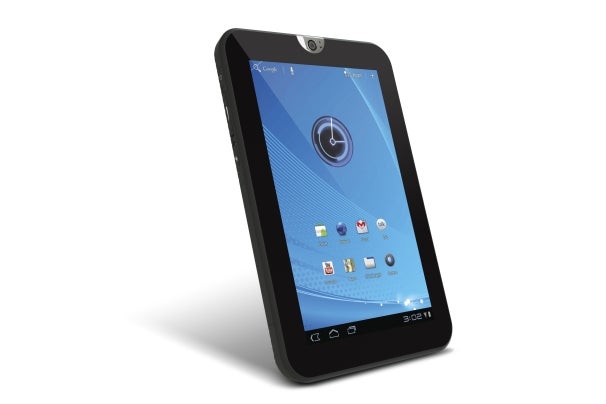 This 10-inch Android Honeycomb tablet is thick, heavy, and ugly–but it's the only Android tablet on the market with full-size USB, HDMI, and SD Card slots. The Toshiba Thrive debuted at $400 for the 8GB model; today, the asking price has shrunk slightly to $380 at Best Buy.
Pros: Its trio of full-size ports makes this tablet more PC-like than any of its peers.
Cons: No points for style. Battery life is below average. And the Thrive comes stuffed with bloatware.
Verdict: Toshiba's already working on a 7-inch Thrive and on a superslim 10-inch tablet known only as the AT200. We'll probably see another price drop on the 10-inch Thrive before the holidays are over.
Acer Iconia Tab A500
There's nothing special about Acer's 10-inch Android Honeycomb tablet; but its single, full-size USB port lets you connect a mouse, a keyboard, a gamepad, or an external hard drive. The Iconia Tab A500 originally cost $450, but you can now pick it up at Best Buy for $400.
Pros: The full-size USB port comes in handy, and aluminum trim adds a subtle touch of class.
Cons: It's big and heavy, and its display has some quirks according to our hands-on review.
Verdict: There's not much to recommend at $400. But a $300 refurbished model at Best Buy? If you need a tablet that plays well with your external USB devices, the Iconia Tab is your cheapest option.
Follow Jared on Facebook, Twitter, or Google+ for even more tech news and commentary.