Deadlines abound, and it's easy to get exasperated if you don't have a solid game plan for tackling your tasks effectively and efficiently. And who doesn't want to get things done?
If you're reading this, the answer is already right in front of you. The Internet is an invaluable toolbox; and with a bit of help, you can outfit yourself with tools and services to tackle your tasks successfully.
What Do We Need To Get Done?
The first step is to identify the areas where you're not working at full strength. Something as nebulous as the Internet won't magically solve all of your workaday problems, but you can use Web-connected tech to make sense of and deal with these increasingly complicated times.
Sometimes the fix is as simple as getting files and documents swapped quickly and reliably between coworkers. Emailing documents back and forth could work, though keeping track of file changes and getting around email attachment limits may make that approach problematic. Cloud services can help manage file syncing and backup–for free, if your budget is limited, or at price levels based on the amount of data you need to accommodate.
If you want the flexibility of a cord-free workspace, or if you have more staff than you have space for ethernet ports, setting up a wireless network is an effective way to stay connected without being tied to a desk. But there's more to going cableless than just sticking a wireless router in an empty corner: We'll show you how to set up an office network that's stable and secure.
What Are We Willing to Change?
Your workflow is important to you. But change can be a good thing–doubly so, if you're looking for an effective way to keep track of projects that need input from several people.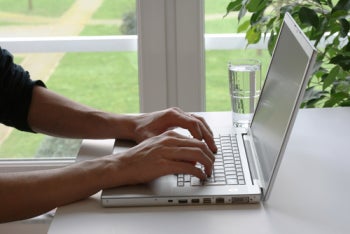 The desktops and laptops you rely on aren't leaving anytime soon. But tablets and smartphones offer quite a bit of flexibility, whether you're grinding through chores on your own or managing a business.
If you're a business owner who doesn't want to shunt the company's workflow over to a tablet, chances are you'll still have employees who have smartphones and tablets of their own. Obviously, you'll want to manage those devices to keep valuable assets and data secure and to keep operations running smoothly in the event that a device is lost or stolen. Establishing a VPN for your workplace can be a boon, too, if you have employees who'd like to work remotely or if you need secure access to files while you're on the road.
And don't forget cutting costs! Switching to a VoIP (Voice over Internet Protocol) service can be a great way to cut a few extraneous phone lines by making calls over the internet–even over your fancy new wireless network.
When Can We Start?
Right now! Check the list of articles in the box at the top of this column for discussions of a few of the ways that getting Web-connected can help you thrive.