At a Glance
Expert's Rating
Pros
NFC Support
Incredibly thin
Beautiful Super AMOLED Plus display
Cons
Plasticky design
Security flaw in lock screen
Our Verdict
The Samsung Galaxy S II pretty much has it all: a dual-core processor, HSPA+ speeds and a gorgeous display. But a current security flaw with the lock screen causes some concern.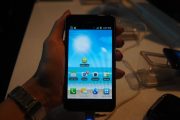 By now, you've probably gotten an earful about the Samsung Galaxy S II. This Android phone is a hit in Europe and now, after many long months of waiting, it has finally landed in the U.S. on AT&T ($200 with a two-year contract from AT&T). This version of the super thin phone has a big advantage over its sibling, the Epic Touch 4G on Sprint: It supports Near Field Communication (NFC). Other than a few other tweaks, it is fairly identical to the other Galaxy S II phones – and that's a very good thing.
Lock Screen: Tweak the Settings
Editor's Note: Samsung followed up with us and clarified the issue. We've updated this paragraph to reflect this clarification.
When you turn on the phone, the pattern lock shows up if you set it (by the way, you should always set a pattern lock). Wait a second, and the phone will go back off. Turn the display back on and—poof!—you've successfully unlocked the phone. The phone's factory setting is for the password not to be needed to unlock the device for 5min. You can change this, if you want the password to be needed for a shorter period of time. BGR originally noticed this and TechCrunch was able to get a statement from Samsung regarding the issue. Via TechCrunch:
Samsung and AT&T are aware of the user interface issue on the Galaxy S II with AT&T. Currently, when using a security screen lock on the device, the default setting is for a screen timeout. If a user presses the power button on the device after the timeout period it will always require a password. If a user presses the power button on the phone before the timeout period, the device requests a password – but the password is not actually necessary to unlock it.
Samsung and AT&T are investigating a permanent solution. In the meantime, owners of the Galaxy S II can remedy the situation by re-setting their time-out screen to the "immediately" setting. This is done by going to the Settings->Location and Security->Screen unlock settings->Timeout->Immediately.
Design
In terms of design, the AT&T version doesn't look too different from its siblings, the Epic Touch (on Sprint) and the T-Mobile and European versions. Yes, it too is a bit on the plasticky side, which makes it feel a bit on the cheap side when compared to HTC's unibody aluminum phones or Motorola's sturdy Droid Bionic.
It is incredibly thin and light, however, measuring 2.6-by-4.93-by 0.33-inches thick and weighing 4.09 ounces. It is slightly smaller than the Sprint and T-Mobile versions as it has a 4.3-inch display (more on that below) rather than a 4.5-incher. The European version, the first version I got my hands on, has a similar design. Though I haven't gotten my hands on the T-Mobile version of the phone yet, I have to say that the AT&T version is my favorite of the Galaxy S II designs. My hands are fairly small and a phone this size is a lot more comfortable for me to hold on to.
Stunning Display
One of the best things about the Galaxy S II series is the Super AMOLED Plus display. Colors look bright, details are crisp, and the viewing angles are very good. Blacks were deep, and colors were richly saturated without being overdone. Even when held in direct sunlight, the Galaxy S II's display remained incredibly visible. Whites had a bit of a bluish tint, but it wasn't too noticeable. According to Samsung, Super AMOLED Plus displays have 50 percent more subpixels than the first-generation Super AMOLED displays (seen on the Vibrant, Mesmerize, and other Galaxy S phones) and perform even better than their predecessors in bright light.
Android Gingerbread With TouchWiz 4.0
(Editor's Note: Portions of this review were taken from the review of the European Samsung Galaxy S II and the Samsung Epic Touch 4G on Sprint).
The revamped TouchWiz 4.0 is fairly similar to the previous version, but it has a few aesthetic and functional enhancements here and there. For instance, the new lock screen displays missed calls and unread text messages; you can swipe these notifications rather than having to unlock your phone and then dig through menus to find the missed messages. The Galaxy S II's keyboard isn't the native Android one, but it retains the multitouch key-chording feature (you can simultaneously press Shift and a letter to produce a symbol or number–no need to switch between modes) and the ability to use your voice to correct words as you type.
Taking a page from (or directly ripping off) HTC Sense, TouchWiz lets you pinch your homescreen to see thumbnail-size versions of all of your screens. Samsung borrowed another feature from HTC Sense, too: When the phone is ringing or playing music, you can silence it by flipping it face-down on a surface.
Contacts gets some cool new gesture-based functions. Swipe right on a friend's name, and you'll start a call with them; swipe left on their name, and you'll jump to the SMS composer, which you can use to send them a text message. Each of your contact's cards comes with your communication history–for example, when you last called, texted, or emailed the person.
One funny new feature is the ability to reject a call by sending a text message. Let's say that your brother is calling to ask when you're going to pay him back for dinner the other night. A menu will come up giving you the option to answer the call, hang up, or reject it with a text that says "I'll pay you back tomorrow!"
All of the Galaxy S II phones have six-axis motion sensing, powered by an accelerometer and a gyroscope. This feature is great for gaming, but Samsung also throws in some gesture-based phone controls. For example, you can zoom in and out of images in your gallery or in the browser by tilting the phone. This feature feels a bit awkward and unnecessary, however; I can't see myself ever using it.
TouchWiz isn't for everyone, so be sure to spend some time with it before purchasing a Galaxy S II phone.
Multimedia and Apps
As I mentioned earlier, the Galaxy S II supports Near Field Communication (NFC) so you can use the newly launched Google Wallets to make mobile payments with your phone. See our full review of Google Wallet here.
Perhaps the coolest app Samsung provides on the phone (and on all Galaxy S II phones we've seen) is the company's own Kies Air. The app lets you view call logs, videos, photos, bookmarks, and IMs, and send SMS messages from PC. In order for the app to work, you'll have to install it on your PC and connect it to the same Wi-Fi network as your phone.
Like all Galaxy phones, the S II provides the Media Hub for movie and TV-watching. Video looked fantastic on the handset's display and played back smoothly. Even if you don't like Samsung's Media Hub, you'll want to watch a lot of movies and TV shows on this phone. Unlike the European version, this Galaxy S II does not have the Readers or Music Hub for purchasing ebooks or MP3s, respectively.
Solid Camera
When we reviewed the European version of the Galaxy S II, we were impressed by its 8-megapixel camera. Luckily, Samsung seems not to have changed the sensor for the U.S. versions. Like many other recent high-end phones, the Galaxy S II has an 8-megapixel camera plus a front-facing camera for video calls. Image quality is impressive, both indoors and out. The shutter speed seems quite fast, making it ideal for shooting kids, sports, pets and other action shots.
Performance
Powered by a 1.2GHz dual-core Samsung Exynos processor, the Galaxy S II smoothly handled every task I threw at it. I was able to run multiple open apps at a time without any glitches or slowing down.
We ran Qualcomm's Vellamo test to see how the Exynos processor stacked up against Qualcomm's Snapdragon processors. The AT&T Galaxy S II earned a very impressive score of 925, which is slightly higher than its sibling, the Epic Touch 4G, which socred 914. This score puts the Galaxy S II right behind the Galaxy Tab 10.1 for overall performance and ahead of two phones running Qualcomm chips–the HTC Sensation 4G and the HTC EVO 3D. You should take these results with a grain of salt, since Qualcomm manufactures the app, but the data is interesting to compare.
AT&T's HSPA+ network, which it calls 4G, delivered fast speeds, but is slightly slower than its competitors' 4G networks. PCWorld.com (the full site) loaded in 27.1 seconds. Image-heavy site, TheBoldItalic.com loaded in 12.5 seconds and media-heavy Thrasher.com loaded in 15.9 seconds. For comparison, the Epic Touch 4G over Sprint's 4G network loaded PCWorld.com in 12.1 seconds, TheBoldItalic.com in 10.1 seconds, and ThrasherMagazine.com in 13.6 seconds. iOokla/Speedtests
Call quality was very good overall. My friends and family's voices sounded clear, natural and with an ample amount of volume. I didn't hear any distortion nor did I experience any dropped calls while testing in San Francisco.
Bottom Line
We'll be conducting formal lab testing over the next few days, but right now, it looks like the AT&T version of the Galaxy S II is one of the fastest Android phones available. On top of its speediness, it has a superslim design, a gorgeous display, an excellent camera and of course, NFC support. But this lock screen security flaw is a big oversight and therefore, I'm giving it a slightly lower score than the Epic Touch 4G. If Samsung issues a fix, we'll reconsider its score.