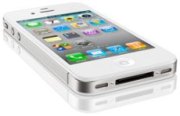 Diehard fans will buy the new iPhone, regardless of what Apple will announce on Tuesday, but unless the refresh is more substantial than expected, the company will have to work harder to fend off stiff competition from Android.
Anecdotal evidence in advance of Tuesday's scheduled iPhone unveiling indicates Apple's newest model will look exactly like the iPhone 4 on the outside, with bumped-up specs on the inside. If that's the case, Android phones are already ahead of the curve.
Three main improvements are expected in the new model: a faster dual-core processor, likely the A5 chip used in the iPad 2; more RAM — 1GB up from 512MB; and an 8-megapixel camera, improved from 5 megapixels in the iPhone 4. Motorola's Droid Bionic has all that plus 4G connectivity for fast data transfers, while the Samsung Galaxy S II has an even faster processor (1.2GHz dual-core). The incoming iPhone seems to be merely catching up with Android handsets that were launched earlier this year.
iOS 5, the next version of the mobile OS powering iPhones and iPads, is also mostly a feature catch-up with Google's Android OS. As with Android, iOS 5 users won't need to be connected to a PC to update the software on their phone. Also similar to Android, iOS 5 will feature a notification drawer and browser tabs. Other features such as the iMessage service are already found on BlackBerry phones.
The iAdvantage
On paper, Apple looks like it is playing catch-up with Android phone makers, after the last refresh of its handset in June 2010. But in reality, the iPhone 4 is Apple's most successful iPhone so far, selling more than 50 million devices since its launch — making Apple the top smartphone maker in the world. Overall, Apple sold more than 128 million iPhones since 2007.
With one device launch per year, Apple has 28 percent of the U.S. smartphone market, which is dominated by Android with a 43 percent share, according to Nielsen figures. No single Android device has ever come close to the sale figures of the iPhone, although the Android ecosystem as a whole dominates the market.
Even if the next iPhone looks identical to the older model, Apple's sleek integration of software and hardware is in high demand among consumers. A consumer survey indicates that 41 percent of mobile users plan to buy the new iPhone, out of which 51 percent are current iPhone users. Analysts are also placing their bets on record sales for the new iPhone, with some predicting 84 million iPhones will sell this year and up to 107 million iPhones in 2012.
Follow Daniel Ionescu and Today @ PCWorld on Twitter