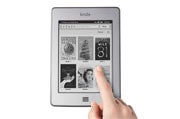 Amazon confirms that its touchscreen Kindle e-reader–expected to reach consumers next month–won't support Web browsing over its 3G wireless connection.
"Our new Kindle Touch 3G enables you to connect to the Kindle Store, download books and periodicals, and access Wikipedia–all over 3G or Wi-Fi," an Amazon "official" explained in one of its customer forums.
"Experimental web browsing (outside of Wikipedia) on Kindle Touch 3G is only available over Wi-Fi," the official wrote, but added, "Our Kindle Keyboard 3G will continue to offer experimental web browsing over 3G or Wi-Fi."
According to the moderator of a Kindle users forum in the United Kingdom, Amazon recently changed the 3G Touch's product description to state that Web browsing could only be done via the device's Wi-Fi connection. However, when customers called customer support, they received conflicting answers. That made it necessary for the clarification by the Amazon official.
The clarification cost Amazon some orders for the Touch, which will be selling for $149. "No 3G browsing; order canceled…," Curtis Yee declared in the Amazon forum. "Now I have to cancel my Touch 3G for Wi-Fi only version," lamented Emilio L. Maranon III in the forum. "Just found out this…," wrote Jian Fang. "On my way to cancel my Touch 3G…"
Kindles and Web Browsing
Web browsing on the Kindle has been an issue with the device since it was introduced. Surfing the Net with earlier versions of the device was like swimming under water with cement shoes. It wasn't until Amazon incorporated a Webkit browser into the third generation of the e-reader last year that browsing became something to be used rather than something to be avoided.
Amazon announced the touchscreen versions of its Kindle e-reader last week, along with the Fire, a color tablet ($199), and a new button version of the Kindle for $79. While the Fire has garnered much of the limelight from those introductions, the Touch–the Wi-Fi-only version, not the 3G version–could hit a real sweet spot in the market.
While the $79 Kindle is cheaper, the Wi-Fi Touch's more intuitive touchscreen probably will be more attractive to consumers. In addition, moving through an e-book by touching it is also closer to what a reader experiences with a paper book–a bonus when trying to wean dead-tree readers to new-fangled e-readers.
The device's $99 price puts it in impulse-buy territory for some gift-givers. Of course, Amazon isn't doing early gift shoppers any favors by waiting until November 21 to release it.
Battery life should also be a selling point of the Touch. It's rated at two months, twice as much as that of the $79 model, and has twice the storage capacity of its lower-priced brother,–4GB compared to 2GB–or 3000 books versus 1400 books, although it's doubtful that many folks are going to store even 1000 books on an e-reader.
How about the high-end Touch with 3G? At $149, it's getting close to the Fire. That's too expensive for users looking for a basic e-reader. Those who want more functionality will be more likely to cough up the additional $50 and go for the Fire.
Follow freelance technology writer John P. Mello Jr. and Today@PCWorld on Twitter.