At a Glance
Expert's Rating
Pros
Hybrid powerline support frees up an outlet.
Less expensive than router, AV adapter separately.
Cons
No 5ghz Wi-Fi or gigabit ethernet.
Poor documentation on setting up HomePlug AV.
Our Verdict
The Netgear WNXR2000 is basically a midrange Wi-Fi router bundled with a HomePlug AV brick and a special cable–not the most elegant way to integrate the two network technologies.
For some time, PCWorld has advocated hybrid networks that support both Wi-Fi (for laptops, cell phones, and anything else you might want to use untethered to a power source) and a wired technology for streaming media to fixed-location devices. Ethernet is the best wired-network technology, but using it typically involves stringing cables through walls; if that isn't feasible, a HomePlug AV powerline network, which uses existing electrical circuits, can be a great alternative.
Previously, in setting up a hybrid network, you could operate a Wi-Fi router in another room only by purchasing a separate HomePlug AV adapter and plugging the powerline device into an ethernet port on the router as well as into a free wall outlet (a precious commodity in the wired world). Now, however, you have other options: New routers from D-Link and Netgear deliver both Wi-Fi and HomePlug AV network technologies in a single product that costs about $90 at this writing–less than you'd pay for equivalent gear purchased separately.
But while getting both technologies in a single device is a good idea, these first examples aren't without flaws–most notably, poor documentation and some corner-cutting in features. The Netgear product also suffers from poor design, which isn't surprising since in essence it merely packages one of the company's existing Wi-Fi routers with a HomePlug AV adapter.
No Dual-Band Wi-Fi
The D-Link DHP-1320 Wireless N Powerline Router and the Netgear WNXR2000 N300 Wireless Router Plus Built-In Powerline AV have fairly similar specifications: Both support the current fastest Wi-Fi standard, 802.11n–but, disappointingly, only on the 2.4GHz band, which is subject to lots of interference from the millions of older network devices that still use slower 802.11b/g Wi-Fi, as well as from Bluetooth gear, microwave ovens, and some cordless phones that also use the 2.4GHz band.
Although the ability to support older Wi-Fi devices is important since so many are still in use, it would be nice to see a hybrid router that also supports 5GHz Wi-Fi. In addition to being in use on fewer devices right now, 5GHz is much broader and can support many more nonoverlapping channels, so multiple devices can use it without interference.
The good news is that the ethernet-capable HomePlug AV network on these routers is likely to be better at many of the tasks that suffer most from interference on a Wi-Fi network–namely, anything involving streaming media. Many new TVs, Blu-ray players, and set-top boxes offer services such as Hulu Plus, Netflix on demand, Vudu, and the like, and while many of these electronics will support Wi-Fi, you'll find that HomePlug AV powerline networking generally delivers much smoother video and audio. It's easy to add a new device to your HomePlug AV network by purchasing a HomePlug AV adapter for it; the adapters connect to devices via ethernet, and these days most consumer electronics makers put ethernet ports into their products.
Of the two hybrid routers I looked at, the D-Link DHP-1320 does a much better job of integrating the two network technologies. Housed in a sleek white box with two screw-on antennas, the DHP-1320 completely eliminates the bricklike HomePlug AV adapter. You just plug the router's conventional-looking power cord into a free wall socket, and it both powers the router and creates the HomePlug AV network, thereby freeing up an outlet (a separately purchased HomePlug AV adapter must be powered independently of the router).
Good Design Is Key
The Netgear WNXR2000 also requires only one wall outlet, but it isn't nearly as elegant as D-Link's product–in fact, quite obviously it simply bundles the older N300 Wi-Fi router with a HomePlug AV adapter brick. The brick plugs directly into a wall outlet, and connects to the router via a Y-shaped cable that terminates with connectors for a LAN ethernet port and the router's AC adapter. Netgear's marketing materials clearly state that the product is an N300 with HomePlug AV support, and the special Y-shaped cable is the main difference between buying an N300 and a HomePlug AV adapter separately. (Bought separately, however, the two would run about $130 to $140 at this writing.)
Netgear's router provides four 10/100 ethernet ports, but since one is devoted to the HomePlug AV cable, you have only three available for other devices. The D-Link router has just three 10/100 ports–but you don't have to use any for the HomePlug AV network, so effectively the two routers support the same number of external ethernet devices. D-Link, however, also gives you a USB port for hooking up an external drive, something that the Netgear product doesn't offer.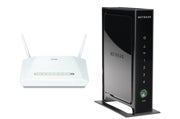 I tried using both devices to transfer a file via FTP from a computer on the HomePlug AV network to another computer connected to an ethernet port on the router. I transferred the file several times, and found that speeds were remarkably consistent for each router. In these admittedly informal tests, the D-Link device was slightly faster, taking a little less than 22 minutes to move a 1GB file; the Netgear router took a little over 23 minutes. That isn't a huge difference (and noise on my electrical circuitry might account for it, perhaps), but I did see the same results several times.
Both D-Link and Netgear have plenty of experience in helping people set up Wi-Fi networks, and the instructions and wizards for these products are certainly adequate. But both vendors could have done a much better job with documentation for setting up the HomePlug AV network, and in Netgear's case such help is practically nonexistent in the quick-start guide, which simply shows a little network-topology diagram. If you want to add the WNXR2000 to an existing network, you're really on your own. In my trials, the router's firmware did have a powerline tab, but it proved useless in finding and setting up my legacy devices, and I had to call tech support for instructions.
D-Link provided some guidance for using the encryption button on the DHP-1320 to add it to an existing network. But that button is next to the Wi-Fi Protected Setup button–and neither is actually labeled, either on the router or in the printed documentation. I had to go online to find an illustration showing which button is which.
The Winner
Overall, if you're looking for a Wi-Fi router that supports HomePlug AV powerline networking right out of the box, the D-Link DHP-1320's superior integration of Wi-Fi and HomePlug AV, its slightly faster speed, and its USB port make it a better option than the Netgear WXNR2000. I'd have no problem recommending the D-Link product to people who don't need top Wi-Fi or ethernet performance and who are merely looking to improve their streaming-media performance by connecting home entertainment components to a HomePlug AV network.
But lack of 5GHz Wi-Fi support is a serious drawback, especially for people who live in big cities and who want a Wi-Fi network that can minimize interference in order to produce fast wireless speeds for laptops and other mobile devices. Business users, meanwhile, may find the lack of gigabit ethernet support equally off-putting for some applications (for example, a backup drive). These early hybrid Wi-Fi/powerline routers demand compromises that some people won't be willing to make.