At a Glance
Expert's Rating
Pros
Broad format support
Great interface
Our Verdict
Quite possibly the best free audio converter available, Freemake Audio Converter is certainly the easiest to use.
Not everyone needs to convert their audio files, but if you do, you'll be hard-pressed to find a better way than Freemake Audio Converter. It's not perfect, but the program is attractive and super-easy to use, and it converts a ton of audio formats–including some not-so-common types.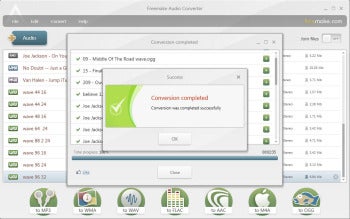 Installing Freemake Audio Converter is easy, and you don't even have to worry about it installing a toolbar. However, it does require an Internet connection at the time of install, as the smallish install file downloads most of the installation. Using the converter is even easier: click on the audio button, add files, then select the format you wish to output to using the large, remarkably legible buttons at the bottom. You may convert any supported file type to MP3, WMA, WAVE, FLAC, AAC, M4A, and OGG.
I threw every test file in my arsenal at Audio Converter, and it handled most quickly and without incident. The list included : MP2, AAC, OGG, APE, FLAC, Apple lossless, Windows Audio lossless, WMA, wave files from 44kHz/16-bit to 96Khz/32-bit, and even the old and rarely used CODEC RealMedia with ATRAC. That last isn't even on the program or file list, and Freemake Audio Converter still converted it. The only files that didn't convert were the old Liquid Media type (.lqt)–which to be fair, no other conversion program I'm aware of handles–and Windows lossless. Windows lossless uses the same .wma file extension as compressed WMA files, so it's somewhat understandable that the program tried. Unfortunately, Audio Converter created a zero-length file instead of throwing an error message, or–the optimal solution–parsing the file headers ahead of time and reporting the inability to convert.
Fremake Audio Converter also extracts the audio from a number of different video formats, and supports joining of files so you can create medleys of tunes in one file. I tried the extraction feature with only the two most common formats, FLV and MPEG, but they played perfectly. The program will also export converted files to iTunes to save you a couple of mouse clicks if that's your preferred player/organizer.
Freemake Audio Converter has wider file type support than its only rival, fre:ac (formerly bonkenc), and the interface is far easier on the eye than fre:ac's. Highly recommended.
Note: The company also makes a very handy video converter called, appropriately enough, Freemake Video Converter.
–Jon L. Jacobi