Sprint is expected to jump aboard the iPhone bandwagon, joining AT&T and Verizon as the third U.S. carrier to sell the device. The carrier committed to more than 30 million handsets over the next four years, according to Wall Street Journal, which was also the first to report that Sprint will get the new iPhone. But in the usual hysteria ahead of a highly-anticipated Apple announcement, Boy Genius Report is claiming its sources say the iPhone 5 will be a Sprint exclusive.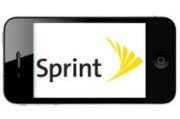 It's quite clear why Sprint is willing to dig deep to get the iPhone. The carrier has not had a profitable year since 2006 and the company reportedly said at a conference last month that the iPhone is "the number one reason customers leave or switch" from Sprint. So the news that Sprint committed to buy 30.5 million iPhones over the next four years — a contract worth $20 billion — is hardly surprising.
[Also see: iPhone 5 and iOS 5: What We Know So Far]
Boy Genius Report says that the $20 billion deal gives Sprint exclusive rights to the iPhone 5 — a high-end version of the iPhone 4S pundits are expecting Apple to unveil later today. Despite the report highlighting how "unbelievable" this information is, it goes on to claim that Sprint's version of the iPhone will also feature 4G WiMAX, while AT&T and Verizon will get the device next year.
It's hard not to be skeptic over an iPhone 5 Sprint exclusive. How would AT&T, the exclusive U.S. iPhone carrier for four years, react to such news? What about Verizon, which just started selling the iPhone in February? Would AT&T and Verizon customers switch to Sprint for the iPhone? Apple has been reluctant to adopt 4G LTE connectivity, let alone the isolated WiMAX technology. I just don't see Apple giving a new iPhone exclusive to the third-largest U.S. carrier, bypassing the two big boys — even for $20 billion of guaranteed sales.
Follow Daniel Ionescu and Today @ PCWorld on Twitter