30 Days With Windows Phone 7: Day 25
One thing I never worried about with my iPhone was the battery. I charge my smartphone every night while I am sleeping, and my iPhone always made it through the day without me giving it a second thought. With Windows Phone 7–not so much. For today's 30 Days With Windows Phone 7 post I am going to check out ways to squeeze every last ounce of juice out of this "Mango".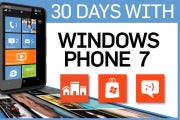 I always appreciate the novelty of things like moving desktop images and Live Tiles for about five minutes. Then it's no longer exciting and it's just extra processing for my PC or device–extra processing that consumes battery power.
Windows Phone 7 has the obligatory battery icon that graphically displays how much juice is left when viewing the lock screen. But, if I go to Settings, and tap the "battery saver" option I can get more details. At the bottom of the "battery saver" settings it lists battery info including the percentage of battery life remaining, estimated time remaining before the battery dies, and the amount of time that has elapsed since the last charge.
Battery Saver
Of course, there is more to "battery saver" settings than just battery statistics. The purpose of the "battery saver" feature is to turn off unnecessary features and activities that drain the battery. The "battery saver" mode stops things like automatically updating some Live Tiles, checking for email, or apps running in the background so I can eke out every last minute of use from the device.
I can still use the smartphone, and I can manually check email, but "battery saver" minimizes the number of things running at once that drain power. There are two checkbox options in the settings–I can set it to automatically go into "battery saver" mode when the battery is getting low, or I can just manually turn on "battery saver" mode to stay active until the next time I charge the smartphone.
Making It Last
The "battery saver" feature is nice, but it should be a measure of last resort. There are a few other things I can do to conserve power and get more productive use out of each charge.
Screen Timeout: There are four options for how much time should elapse before the screen times out: 30 seconds, one minute, three minutes, and five minutes. Setting this shorter will save battery power, but could get annoying if I am actively using the device and the screen times out every 30 seconds. The trick is to find a balance that works.
Screen Brightness: Powering that backlit display consumes a lot of juice. I have the brightness set to automatically adjust, but I can set the level to low, medium, or high first, then turn the automatic adjust option back on.
Dark Background: Speaking of using more juice to power the backlit display, it takes more power to display a white background than a black background. I can go into the theme settings and change background from "light" to "dark".
Disable Connections: Bluetooth and Wi-Fi eat through a lot of power as well. Having the features enabled when not in use means that the device is actively powering the Bluetooth and/or Wi-Fi connections in search of devices and networks to connect to. I make sure I turn off the Bluetooth and Wi-Fi unless I know I am actively using them.
Change Email Interval: Phoning home to the email server is another battery drain. "Mango" can automatically check for email every 15 minutes, 30 minutes, hourly, every two hours, or manually. I want my mail to download automatically, but there is nothing so urgent that I need to know about it every 15 minutes. I think hourly is a happy medium that works for me. I can always manually sync from within the mail app if I am expecting a specific email or need to check right now.
Keep in mind that– unlike the iPhone–there are multiple models of Windows Phone 7 smartphones to choose from a variety of manufacturers. Battery life will vary from device to device, so my experience might have been entirely different with an LG or HTC, or even a different model from Samsung. Regardless, though, these tips apply the same and will help you conserve battery power when using "Mango".
Make sure you keep your smartphone charged, though. The "Find My Phone" features won't work if you misplace your "Mango" phone and the battery runs out.
Read the last "30 Days" series: 30 Days With Google+
Day 24: Find Your Lost or Stolen "Mango"