The tablet market may already include numerous Linux-based competitors, but the vast majority of them use Google's Android platform, which–although based on Linux–isn't entirely open.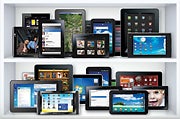 It's possible the launch of Tizen will eventually add some more variety to the mix, but in the meantime a California vendor of Linux PCs has set its sights on delivering what it believes will be the first fully open source tablet.
Powered by Linux and running a dual-core ARM processor, ZaReason's 10-inch contender could provide a new option for open source fans.
'A Gorgeous Sleek Pad'
ZaReason sells laptops, desktops, and servers preloaded with Ubuntu or other Linux distributions, as I've noted before. Now, according to a recent report on the VAR Guy, the company is working on a fully open tablet.
"We had a gorgeous sleek pad ready to go before the first iPad ever hit the market," ZaReason CEO Cathy Malmrose told the VAR Guy. "We have been working on one since 2007. We have every single aspect of it in place, manufacturing, QA control, distribution."
A Nvidia Tegra chip and 512MB of RAM are two of the other features reportedly included in ZaReason's device.
An Open Alternative
The only challenge, however, is finding the right touch-enabled, GPL-protected Linux software for the job, Malmrose said.
Canonical's Ubuntu 11.04, featuring the touch-enabled Unity desktop, has already been spotted running on HP's ill-fated TouchPad, of course, but it hasn't yet been tailored for tablets. ZaReason is waiting for Ubuntu–or another Linux distribution–to get tablet-friendly touch capabilities to the point where they "just work," Malmrose said.
Given all the changes coming to Linux desktops lately–most notably, Unity and the equally controversial GNOME 3–it doesn't seem like it could be long before that happens, meaning that tablet users could soon have a fully open alternative.
I'm not a tablet fan, as I've said before, but if I were, I'd find an open source product pretty compelling. We don't yet have any pricing information, of course, but assuming ZaReason delivers on its plans, would its open tablet tempt you? Sound off in the comments.