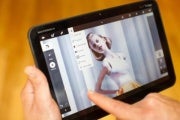 If you are a Web designer, graphic designer, or other creative professional, most likely you work with the Adobe suite of products. Up until now, you haven't been able to migrate your work to your tablet PC of choice. That's about to change. Adobe on Tuesday announced two products available in the coming months that will drastically shift how creative professionals will work: Adobe Creative Cloud and Adobe Touch Apps for tablets.
The Adobe Creative Cloud will offer 20GB of online storage for your files, allowing you to transfer graphics work among your devices. Adobe intends to develop Creative Cloud as an inexpensive service that allows access to all of Adobe's products. It won't only involve the Touch Apps, but access to other Adobe's products, such as Photoshop and InDesign. We won't know until November how affordable it is, but the Touch App price of $9.99 each is a good sign that it may be within reach of the average small business.
The integration of Adobe Touch Apps with the Creative Cloud is necessary, since that's where you'll be getting all of your personal work files from when using a Touch App.
The app that will be of greatest interest is Adobe Photoshop Touch. From the app you can either open local images stored on your tablet or retrieve them from the Creative Cloud. Additionally, you can get images from other sources, such as Google Image Search or Facebook. (Google Image Search allows you to search by color and by copyright.)
Once you've found your images, you can bring up the familiar standby Photoshop tools, which offer basic Photoshop functionality. You can crop, apply effects, use layers and gradients, and apply text. There's even a new Scribble tool, similar to the Magic Wand, which allows you to broadly define an area from which you need to remove the background, then refine the edges.
The rest of the Touch Apps look interesting, but are mostly specialist applications for different industries. The only one that speaks to all creative fields is Adobe Debut, which lets you make presentations using original Creative Suite files. Adobe Collage helps designers create mood boards, Adobe Ideas is a vector-based drawing tool, and Adobe Kuler is a color theme generator.
Web designers will want to grab Adobe Proto for developing interactive wireframes and website prototypes. The capability to demonstrate interactivity without building an entire mockup is certainly worth $9.99.
To get a look at more of the features that the Adobe Touch Apps offer, Adobe has a series of videos here.
How Will This Be Useful?
If you're offsite, you'd be able to make design changes on the fly without hauling a laptop. Yes, you could do that with a decent laptop, but a tablet is a less risky device to take traveling. Plus, outfitting your creative team with tablets rather than laptops is a huge potential cost savings.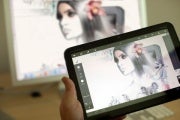 There's also the question of price. While Adobe hasn't shared the numbers yet, it has promised that Creative Cloud will be inexpensive. Hopefully a recent graduate who wants to start their own freelance design business can enter the industry with Creative Cloud rather than spending thousands on a full professional Adobe software suite.
When Can You Get It All?
Creative Cloud membership will be available in early 2012, with Adobe Touch Apps available for Android devices in November for $9.99 each, and for iPad in early 2012. The exception is Adobe Ideas, which is already available for the iPad. While some are calling this a slight on Apple for not allowing Flash on their device, it is more likely because Adobe needs to do more work to make its apps Apple-ready. Further announcements about pricing and Adobe Creative Cloud are expected in November.
Angela West dreams of opening a Fallout-themed pub featuring wait staff with Pip-Boys. She's written for big insurance companies, small wildlife control businesses, gourmet food chains, and more. Follow her on Twitter at @angelawest.