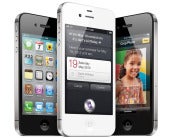 Apple's new iPhone 4S has some impressive upgrades, including voice controls, a faster processor, and a better camera. But to millions of tech fans hoping to be dazzled by Apple's latest creation, the 4S is, well, a tad disappointing. Here are the top pre-launch rumors that didn't come true:
No 4-inch, Curved, or Edge-to-Edge Display
The iPhone 4S' stunning 3.5-inch "retina" display is no improvement over the iPhone 4's screen, which debuted way back in June 2010–an eternity (or longer) in the mobile arena. Since then, competing Android phones have gone behemoth in a big way. In fact, four of the top five handsets on PCWorld's Top 10 Cell Phones chart have 4-inch or larger screens. All are Android models.
So whatever happened to the rumored edge-to-edge or curved glass screen on the next-gen iPhone? Not this year, apparently.
No New Design
The iPhone 4S' (unofficial) motto: Same on the outside, better on the inside. If you were expecting a daring teardrop shape, or something truly cutting-edge such as a pico projector to project images onto a nearby surface, today's unveiling had to be a bummer.
No 4G
The iPhone 4S is a 3G-capable handset, just like its predecessor. But numerous rumors had suggested Apple would launch a 4G-enabled iPhone in the fall.
Alas, this isn't the case, although Apple today did trumpet iPhone 4S' ability to double the theoretical maximum HSDPA data speed to a 4G-like 14.4 Mbps.
That said, the growing number of 4G phones on the market does make the iPhone 4S seem behind the times–at least in terms of data speeds.
No Sprint Exclusive
OK, this was by far the dumbest of the pre-launch rumors, but I'm sure somebody, somewhere believed it: the next-gen iPhone would launch exclusively on Sprint!
Sure, makes tons of sense. Apple's going to snub the two biggest U.S. wireless carriers to sign an exclusive deal with the third-place guy.
Didn't come to pass, of course. The good news, though, is that Sprint is getting the iPhone 4S–along with AT&T and Verizon Wireless, naturally.
No iPhone 5
Despite months of "iPhone 5" scuttlebutt, Apple's magical 5th-gen phone–with its teardrop shape, 4.5-inch curved edge-to-edge display, pico projector, and 5G 100 Mbps service–simply failed to materialize.
Oh, well. Let the new iPhone rumors begin!
Video: Apple Unveils Souped-Up iPhone 4S
Contact Jeff Bertolucci via Twitter (@jbertolucci) or at jbertolucci.blogspot.com.