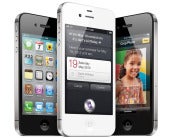 After more than a year with the iPhone 4, the iPhone 4S–announced Tuesday by Apple CEO Tim Cook–seems a bit, well, underwhelming.
The hardware announced today offers no design overhaul. Apple upgraded the phone's camera from a 5-megapixel sensor to an 8-megapixel sensor, though, and the iPhone 4S will use the same dual-core A5 chip that the iPad 2 does.
4G capability? Forget it–Apple isn't going that route this time. We already knew about iOS 5 and its features for a while, but the inclusion of the Siri voice-activated software was a nice surprise.
That isn't to say that I'm dissatisfied. Last year's iPhone 4 still holds up among smartphones released this year, and the internal enhancements in the iPhone 4S, while a bit late to the game, are certainly welcome. The iPhone 4S is a good phone that has become even better, but I certainly wouldn't call it "revolutionary." And, on second thought, Apple didn't either.
Related Slideshow Apple iPhone 4S Features Roundup: A Visual Tour
Design: No Changes, No Problem
The iPhone 4S has an identical design to the iPhone 4, but its guts are all new. Although that might be a disappointment to some people (no larger display, no slimmer body, no tear-shape game-friendly design), I am actually pretty happy with it. I really like the iPhone 4 design: It's still the thinnest smartphone available (despite Samsung's claims), and it has a stylish, premium look thanks to the glass face and back.
I am a little disappointed to see that the screen real estate didn't get a bump. I'm definitely not asking for a 4.5-inch display (which is too big in my opinion), but 4 inches or even 3.7 inches would make Web browsing, movie watching, and gaming a bit more comfortable. Ramon Llamas, IDC's senior research analyst for mobile devices technology and trends, says that keeping the same screen size is actually a benefit to consumers and developers.
"You have all these incredible apps [in the App Store]. If you do a different screen size, it will wreak havoc for the developer community," Llamas says. A consistent screen size is one of the reasons why the App Store has such a high number of apps, he adds.
The Best Camera? Hard to Say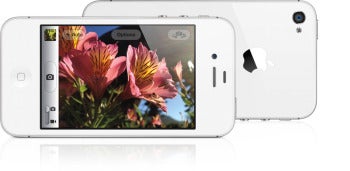 Apple isn't the only tech company that loves to tick off specs and claim its products are the first to market with a certain technology. Most companies that do so rely on consumers' failure to understand the technology or know what the specs mean. Such confusion frequently happens with camera specs, so I asked my colleague Tim Moynihan, PCWorld's camera editor, to decipher some of the specs announced for the iPhone 4S's camera.
Apple says that the new iPhone's 8-megapixel camera is built around a backside-illuminated (BSI) CMOS sensor, a type of low-light-optimized sensor that debuted in Sony's cameras a few years ago. BSI sensors are now fairly commonplace in CMOS-based cameras, including both stand-alone cameras and a growing number of camera phones.
A BSI sensor is designed such that small, light-blocking wires move to the back of the sensor, making the sensor's surface a more efficient light-gathering source; as such, BSI-sensor cameras usually perform well in low-light situations without a flash. The iPhone 4's 5-megapixel sensor was also a BSI sensor, and was very good; the new sensor in the iPhone 4S is likely a higher-resolution version.
Apple also says the iPhone 4S has a five-element lens that offers 30 percent more sharpness. According to Moynihan, the lens specs sound good, but we'll need to test Apple's claims of improved image sharpness in our labs. The iPhone 4S's F2.4 lens has a wider aperture than most phone cameras do; coupled with the low-light-optimized sensor, it should perform well in low-light situations and at quick shutter speeds. The T-Mobile MyTouch 4G Slide's F2.2 aperture is still a bit wider. (The HTC-made MyTouch 4G Slide is PCWorld's top-ranking phone camera right now.)
[Read: Android Camera Shootout: 13 Phones Put to the Test]
More Pixels Make It Better?
When Apple says that the iPhone 4S camera has 60 percent more pixels than the iPhone 4 camera, it means that an 8-megapixel camera is technically 160 percent of the resolution of a 5-megapixel camera. So really, it doesn't translate directly to improved image quality, as more megapixels aren't an indicator of better image quality on small-sensored cameras. The higher megapixel count does mean that you'll be able to print out images at a bigger size without losing resolution, or to crop images without the cropped area losing resolution.
According to Moynihan, unless the sensor size is also 60 percent bigger, the added resolution could translate to worse image quality when compared with that of the iPhone 4. When you pack a sensor of the same size with more pixels, you can end up with a lot of noise and artifacts. Again, this is something we'll have to test when we get the iPhone 4S in.
Video: Apple Unveils Souped-Up iPhone 4S
We're still a bit confused about what exactly Apple means when it says that the iPhone 4S has a Hybrid IR filter, as the company simply threw that term out there without actually explaining what the "hybrid" refers to. It could be a filter that allows both infrared photography and regular photography, a feature that the user can turn on or off. Moynihan suspects that the iPhone 4S's sensor has an infrared-blocking filter built to fix any chromatic aberration, purple fringing, or color-accuracy issues caused by the sensor's being sensitive to infrared light.
If that's the case, it's a unique feature for a phone camera, although some stand-alone cameras use lens coatings and processing software to address similar issues.
As for the company's shutter-speed claims of just 1.1 seconds to take a first photo and 0.5 seconds more to take a second, we noticed that Apple did not compare the iPhone to the T-Mobile MyTouch Slide, which has the best camera of any phone we've tested. The Slide's camera specs are pretty similar to the iPhone 4S's, so we'll have to do some head-to-head testing once we receive the Apple phone in our labs. We also plan on replicating Apple's test with other phones we have in house.
Like many dual-core Android phones currently available, the iPhone 4S can shoot high-resolution video up to 1080p. It also features digital video stabilization–but unless it's a radically different system than we've seen on other video devices, don't expect miracles from digital-only stabilization.
Judging from the specs alone, the iPhone 4S's camera is competitive with those in the top crop of recent Android phones, including the Samsung Galaxy S II series, the HTC ThunderBolt, and the Slide. Considering the iPhone 4's excellent performance in our imaging tests, Apple gets the benefit of the doubt when it comes to those claims of improved camera performance–we just don't think the higher megapixel count has much to do with it.
Next: Speed Boost, No 4G, and Siri Software
Speed Boost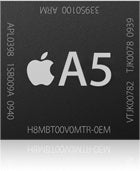 Apple claimed on Tuesday that data speeds for the iPhone 4S are double those for the iPhone 4: 5.8 megabits per second for uploads and 14.4 mbps for downloads. Ken Biba, CTO of Novarum, a company that designs wireless networks, says that the speed boost is due to the A5 chipset supporting the faster HSPA 14.4 network.
Again, Apple is playing a bit of catch-up here; we saw the first dual-core phones all the way back in January. Still, having the A5 is better than getting no processor upgrade at all. It is also encouraging that the A5 is the same chip found in Apple's iPad 2; when we reviewed the iPad 2, we noted the zippy scrolling in the browser, as well as the speed when we used iTunes and quickly navigated through various menus and galleries.
Once we have the iPhone 4S for review, we'll subject it to our Sunspider JavaScript tests to measure browser performance. Our performance tests showed that the A5 processor in the iPad 2 was twice as fast as the processor in the iPhone 4. I'm not sure how much the chipset will benefit the iPhone 4S, but any speed enhancement is a positive thing. And the iPhone 4 isn't exactly a slouch to begin with.
The one concern that I have (not to mention most consumers who have owned an iPhone in their lifetime) is about the battery life. If you own an iPhone, you are pretty much constantly using it–whether you're talking, taking pictures, changing the song in iTunes, or playing a game. The battery drains fast. And unfortunately, battery life is becoming an even bigger issue with with some of the dual-core Android phones we've seen (especially those on a 4G network). Apple did address these concerns, however, stating that the iPhone 4S will provide 8 hours of 3G talk time and 10 hours of video playback.
No 4G: Missed Opportunity?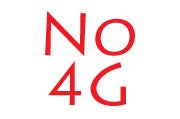 Given Apple's delay in jumping on 3G a few years ago, I wasn't surprised when the company announced that the iPhone 4S would not support 4G LTE/WiMax networks. Ramon Llamas of IDC says that he understands why Apple sacrificed LTE/WiMax support for this release: LTE isn't a world standard yet, and Apple would have had to make different U.S.-only models to support the technology. Right now the company's focus seems to be on iOS 5 and rolling out iCloud. Perhaps when the iPhone 5 (which is purely mythological at this point) surfaces, Apple will embrace LTE or WiMax.
Although I am disappointed that we won't get to see an LTE or WiMax iPhone, I have a feeling that it won't make a difference to customers. The original iPhone still sold like crazy without 3G.
What consumers do want is reliable coverage and no dropped calls. According to Apple, the iPhone 4S can intelligently switch between two antennas for even better call quality, as well as faster download speeds. This claim needs testing in the real world, however.
At its event Tuesday, Apple showed a chart comparing the iPhone's download speeds against other HSPA+ phones on AT&T that carry the 4G label. I respect Apple for not calling the iPhone 4S a 4G phone just because it can match the speeds of those competing handsets. HSPA or HSPA+ still constitutes a 3G network–even if a phone can produce "4G-like" speeds.
What is unfortunate, however, is that U.S customers on the Sprint and Verizon networks likely will not experience the faster speeds, since they'll be limited to CDMA's 3G EvDO.
I'm pleased to see the iPhone finally make it to Sprint. Lacking the iPhone, the carrier has held its own with a strong line of Android phones, but I know that quite a few Sprint customers will be happy to hear this news. Additionally, all versions of the iPhone 4S are GSM/CDMA world phones, which is a big win. However, having used an iPhone overseas, I cringe at the thought of what the carriers will charge while users travel.
Siri Voice-Command Software: Your Very Own Personal Assistant
Perhaps the feature I'm most intrigued by is the long-rumored Siri Personal Assistant. Voice-command software isn't exactly a new feature in smartphones, but Siri seems so tightly integrated that it almost seems creepy.
"The best interface a person can have with a device is your voice. You can talk to it, and it talks back," IDC's Llamas says about Siri.
But he and I both foresee some potential issues out of the gate. Tim Cook explicitly stated that Siri will take a few days to get used to your voice–but how will Siri deal with different English accents and dialects? Will Siri be able to understand my friend's thick Boston accent? Or my aunt's Southern accent? How will Siri deal with nonnative English speakers?
The iPhone 4S comes to AT&T, Verizon, and–for the first time–Sprint on October 14, but preorders start October 7. As soon as we have one, we will put the iPhone 4S through our rigorous tests to see how it compares against the top-rated Android phones, the soon-to-be-released Windows Phone 7 "Mango" phones, and its predecessor, the iPhone 4. Stay tuned.