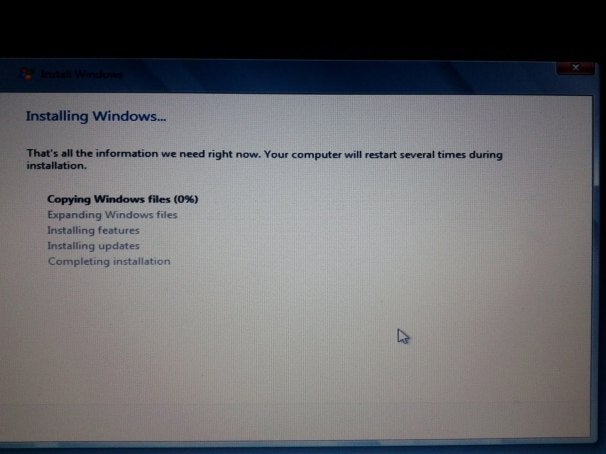 Back in February, I tried to brick my CR48 by installing Ubuntu Linux on it. Considering the relative ease of doing so, I had decided that I wanted to do something a bit more difficult the next time I installed another OS on the laptop.
After switching between Ubuntu and ChromeOS almost weekly for months, now, I'm ready for something new. Microsoft finally released their developer preview of Windows 8, so this seems as good a time as any to take the plunge, I wager.
Now, to be fair, I'm not really a developer. But I am a nerd who likes to try new things that will more than likely brick whatever hardware I'm currently infatuated with. Windows 8 Developer Preview is available for download for free, though, so I figured, why not give it a shot? I'd watched and peanut-galleried the launch event via Twitter (#BLDWIN was pretty big that day), so I figured I may a well put it through it's paces.
I should also be fair by disclosing Windows is NOT my daily driver, PC-wise. I run Linux at home–either Mint, Ubuntu, or ChromeOS. I'm not unfamiliar with Microsoft operating systems, but this would be a switch for me, like having an old friend back in the house living with me after a long hiatus. Specifically, one that I didn't really like to begin with and only kept around because we had so many mutual friends and I owed them a huge favor, but that's neither here nor there.
The requisite disclaimer: Perform this hack at your own risk! We're not resposnible if you inadvertantly kill your laptop. There's a reason this series is called "Adventures in Brickdom", after all.
Without further ado, here we go!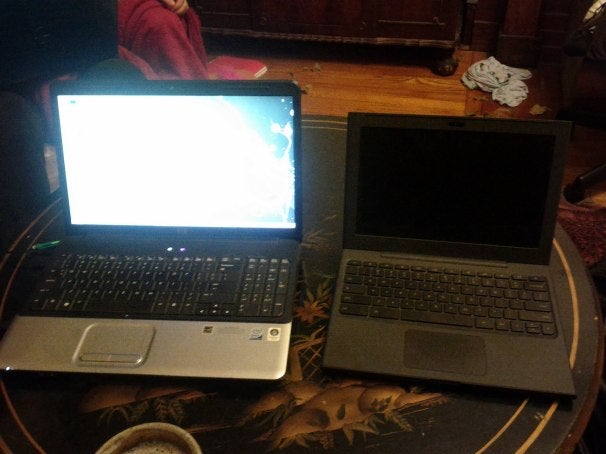 Here's my poor CR48 sitting next to my Mint laptop (an old HP G60 workhorse), not yet knowing that it was about to be torn apart, taped up, and then formatted and scrambled.
I will say that Google's little laptop still has what it takes to be a everyday laptop, though the fact that it has only 2GB of memory is an issue on occasion, even with Chrome OS. I still get a good 6 hours of battery life out of it (perhaps slightly less when I'm running Ubuntu), and I don't have issues at all using it for my blogging needs. I even edit images with it in Gimp. It's awesome.
Step 1: Hack the BIOS
Unfortunately, this is the most difficult part–one that might keep you from running this hack yourself. It involves opening your CR48 (taking out 12 screws. Twelve!), and putting a piece of electrical tape over a BIOS contact point, disabling the protection. Wikispaces has instructions on how to do this; I've helpfully circled the offending contact point below that you need to tape up in the photo below: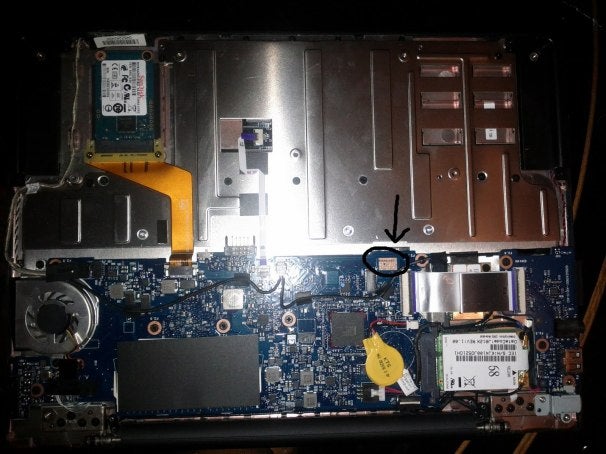 All done! Here's the contact covered with tape: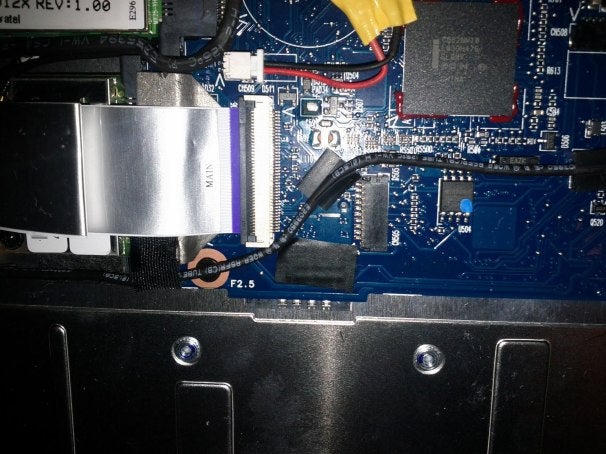 (Yeah, the tape's crooked. You can't tell in the pics because I carefully removed the evidence, but there's wine involved in this process, which is why that happened. I did it for science!)
All the above step really does is allow you to get into the BIOS settings of the CR48, as well as remove the setting that blocks changes to the bootloader. So now you can hit F11 (or its equivalent) and go into the BIOS and do all of the normal things you can do (change the boot order, etc…).
An important note: This makes a pretty fundamental change to the way your system operates, so make sure you follow the instructions carefully and make doublysure this is what you want to do. You can reverse this change, but it's a hassle. Just be sure you want to follow in my crazy footsteps.
Step 2: Flash a New BIOS
Once you have the CR48 all back together again, head back over to Wikispaces and follow the instructions to flash the new BIOS. After that, you can install any operating system that you want one your CR48, assuming you can get the OS on the proper media. Using a USB flash drive is, of course, the easiest. I didn't try a network install, as that more than likely requires a net-boot BIOS that's outside the scope of this walk-through. An external USB CD-ROM should work as well.

For the purposes of my installation, I used the instructions I found over at ghacks (thanks, guys!), which are thorough and worked perfectly. It's interesting to note that while I attempted to use the Startup Disk Creator found in Linux first, the laptop refused to see the Windows 8 ISO file I had downloaded, so I had to actually use the Windows 7 USB/DVD Download Tool in a virtual machine. Your mileage may vary with that, and if you get it to work, let me know. I could have done it via a dd= statement at the command line, but I didn't want to remake the wheel TOO much here.
After that, it was pretty gravy. You boot off of the USB drive and run the installation as normal.
Oh, one thing I wanted to note was that Windows 8 boots incredibly quickly; on the CR48's SSD drive I was at the Metro desktop in about 12 seconds from a cold boot–and that includes me typing in a password. It's pretty crazy, and I'll go on record as saying it's a welcome improvement over previous versions of Windows.
Would you try this out? Are you running Windows 8 on anything? Do you have any ideas for crazy things I should do to my CR48? Let me know in the comments.
When Jason isn't messing around on his CR48, you can find him…well, who are we kidding? When he's not doing something nerdy, he's asleep. You can follow him on Twitter or Google Plus.
Like this? You might also enjoy…
Get your GeekTech on: Twitter – Facebook – RSS | Tip us off