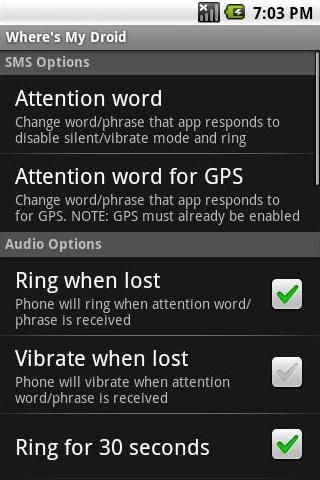 If an iPhone goes missing, well, there's an app for that. (It's Apple's venerable Find My iPhone.) But where's the equivalent for Android? Surely there must be some app-tastic way to locate a rogue Android handset.
There are several, actually, so it's just a matter of picking one and getting it set up. I'm partial to Where's My Droid, a free app designed expressly to help you find your lost phone. (And don't let the name fool you: Where's My Droid works with all Android-powered phones running OS 1.6 and later, not just Motorola's Droid series.)
The app goes above and beyond the usual method of locating a missing phone: calling it. If your phone is set to vibrate, you're much less likely to hear it. And, of course, if it's not within earshot (i.e., you dropped it at that rest stop on the interstate), calling does no good.
With Where's My Droid, you text a secret "attention" word or phrase to the phone. That activates the app's find-me mode, which switches the phone from vibrate to ringer, cranks the volume, and makes it ring for 30 seconds.
Alternately, you can text a different word to enable GPS mode. Once the phone locates itself, Where's My Droid will respond with its exact coordinates. (These are provided as latitude and longitude, which you can enter into Google Maps to get a real-world location.)
What's nice about Where's My Droid is that, unlike a lot of other phone-finder apps, it's not constantly transmitting location information, so it should have minimal impact on your battery. (And remember: a phone with a dead battery can't be found via app methods.)
What's not so nice is that you need access to another phone so you can send your attention-word text messages (and, if necessary, get the GPS reply). Also, if you want remote-wipe capabilities, you'll need Where's My Droid Pro ($3.99). That version also lets you use a custom ringtone and "found" button.
Still, it's hard to argue with a free app that's a potential lifesaver (well, phone-saver, anyway). If you've found a lost-Android app you like better, tell me about it in the comments!