A long time ago I wrote about the $35 tablet PC. The Indian government revealed the initial concept prototype in July of 2010. Now–approximately 15 months later–it seems that the tablet is a reality…at least in India. Don't expect to find any $35 tablets here in the United States, though.
I readily admit that I have been a skeptic of the $35 tablet since that initial unveiling. There was never another word whispered about the device, and all of my attempts to follow up months later for a status update simply hit dead ends and road blocks. I would have bet money it was a political stunt, or at best an unattainable pipe dream that was left to die.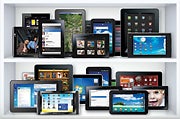 Apparently I have been proven wrong. The tablet is manufactured in Canada by DataWind. It is not exactly a cutting edge device, but it seems sufficient enough for basic tasks. It has a 7-inch display with mediocre resolution, little RAM, a meager 2GB of storage capacity, and a Connexant processor that putters along at 366MHz.
The hardware specs are well below the bar when compared with other Android tablets. Leading tablets have 1GHz or faster dual-core processors, and 1GB of RAM, and 16GB or more of internal storage. Some have 3G, or even 4G wireless capabilities, and cameras.
But, it is $35…at least in India…for some people. The seven-inch Samsung Galaxy Tab is still $430 at Best Buy. The BlackBerry PlayBook price has been slashed and it is still $300. The recently announced Amazon Kindle Fire is $200.
DataWind may market the $35 Indian tablet in the United States, but if it does the price will reflect what the market will bear. That $35 tablet will be more like $75 or $100. Walmart offers a very similar tablet–the Maylong M-250–which has almost identical specs, but with an 800MHz processor, for $97. Walmart also has a Boss Electronics 7″ tablet with less RAM and only a 300MHz processor for $124. So, it seems reasonable to expect that this $100 range would be the ballpark for the "$35 tablet" if it were sold at Walmart.
Keep in mind that you get what you pay for with bargain basement tablets. Consider what you want to use the tablet for, and be realistic about how well a tablet with little RAM and a slow processor can meet those needs. Also, keep in mind that the overall quality of the hardware is typically inferior, so you are also more likely to physically break the device.
If you really want a cheap tablet and you missed the HP TouchPad fire sale, I highly suggest scrounging up the additional money to get the Amazon Kindle Fire. Your $200 for the Kindle Fire will be money much better spent than wasting $100 on a disposable tablet.